How to Get Lead-Free/RoHS II/Reach Status
Vishay Intertechnology recognizes the environmental concerns caused by lead and has started the process of eliminating or reducing the lead content of Vishay products.
Electronics companies in Japan and lawmakers in Europe have established goals for the elimination of lead from electronic products in their regions. Time frames for meeting these goals range from the year 2003 to the year 2006. The United States has not issued specific legislation to eliminate lead at this time. Vishay intends to meet all legislative mandates within the time frames expected by our customer base.
The majority of all Vishay's products have lead-free terminations and we expect 100% of required products to have lead-free terminations by June 2006. Details of lead-free implementations will be provided in product change notifications (PCNs). In addition, a summary of the lead-free status by product family along with other important information is available from the sections below.
Lead-Free Product Family Summary

Reach Information

Frequently Asked Questions

Whisker Testing

RoHS II Compliance

Environmental Health and Safety
Lead-Free Product Family Summary
These downloadable Excel files contain detailed information regarding Vishay's lead-free conversion program and Recast RoHS II compliance:
Active Lead-Free Product Family
Capacitor Lead-Free Product Family
Inductor, Connector and Frequency Control Lead-Free Product Family
Resistor and Plasma Display Lead-Free Product Family

Reach Statement
Substances of Very High Concern Status by Product Family

Additional information regarding specific SVHC:

Position Paper (ZVEI, et. al.) on lead oxide:
http://home.jeita.or.jp/ecb/ceramic.html

Position Paper (ZVEI, et. al.) on boron oxide and boric acid:
http://www.zvei.org/Verband/Publikationen/Seiten/Position-paper-on-diboron-trioxide-B2O3-under-REACH.aspx

Q. What is Vishay's definition of lead-free plating/finish?
A. There is no intentionally added lead (<1000 PPM as per the JEDEC standard) in the plating/finish.
Q. Does Vishay intend to eliminate lead in other areas of the components?
A. Yes, Vishay is in the process of eliminating lead in other parts of the component. For some technologies there currently is no technical solution to eliminate the lead completely (e.g. High temperature die attach solder). Vishay is working with our suppliers to develop other alternatives. Once these alternatives have been tested and qualified Vishay will alert our customer base.
Q. What is Vishay's lead-free plating/finish conversion strategy?
A. Vishay intends to convert all required products to a lead-free finish. Notification of the conversions will be provided through PCNs. Some product lines will make a complete transition and therefore will not offer a Lead alternative. Conversion status and conversion timing along with lead- and lead-free availability is presented in the Lead-Free Product Family Summary section.
Q. Will parts with lead solder finishes be available after the transition to lead-free?
A. Most products will not be offered in a lead alternative. These products will be specifically identified in the Lead-Free Product Family Summary section.
Q. Are components with lead-free termination finish available now?
A. The majority of Vishay's products are available with lead-free finishes today. The exact product families that are available in a lead-free finish can be seen in the Lead-Free Product Family Summary section. To order these parts please contact your local Sales Office
Q. What lead-free finishes are currently used by Vishay?
A. There are several types of lead-free finishes used by Vishay. The majority of the finishes are the industry standard of 100% tin. The Lead-Free Product Family Summary section provides the finish structure.
Q. How can customers identify Lead-free and RoHS II products?
A. Vishay complies with JEDEC Standard 97 to identify Pb-termination status of its product. In addition, Vishay also applies the words "RoHS II" to reels, ammo packs, shipping boxes, etc that meet EU Directive 2011/65/EU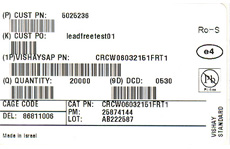 Vishay Standard Label - Minimum Pack Unit (e.g. Reel)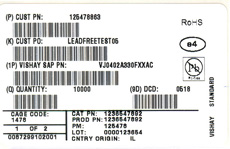 Vishay Standard Label - Shipping Box
Q. Will Vishay change part numbers for components with lead-free finishes?
A. Yes, Vishay will change the part numbers for all products that are converting to lead-free. Parts that have been lead-free for several years will maintain their current part numbers. A detail list of lead-free part numbers by family is available at the Lead-Free Product Family Summary section.
Q. Are lead-free components compatible with lead soldering temperatures?
A. The majority of Vishay components are backward compatible to 215°C. Any exceptions will be noted in Lead-Free Product Family Summary section.
Q. What tests have been done to qualify lead-free finishes?
A. Moisture Sensitivity (if applicable), Solderability, Resistance to Solder Heat and Whisker Growth are the minimum tests performed to qualify lead-free finishes. Moisture Sensitivity is performed according to J-STD-02B/C or greater. Solderability is performed at 215°C and < 10s for SMDs and 235°C/2s for Through Hole products according to IEC 60068-2; IPC J-STD-002B; EIA/JESD22-B102. These test conditions are used to test backward compatibility. Vishay has recently standardized its whisker testing requirements and those tests can be viewed at Whisker Testing.
Q. Which Solder profile is recommended for components with lead-free finishes?
A. Our goal is to meet the industry standard for Reflow which is mostly defined in IPC/JEDEC J-STD-020 /C or greater which requires a maximum peak of 260°C depending on the component volume. Any exceptions to this profile will be listed in the Lead-Free Product Family Summary section.
In order to verify that both the structure and plating process are robust Vishay has adopted the following tests as of September 1st 2004 that have been recommended by NEMI/JEDEC. It must be noted that since there is not a complete industry consensus these requirements might change in the future.
| | | | | | | |
| --- | --- | --- | --- | --- | --- | --- |
| Test | Conditions | Time/Cycles | Conditional Release | Lot | Samp | Acceptance Criteria |
| Ambient Storage | 20-25°C; 30-80% RH | 4000 hrs | 2000 hrs | 3 | 3 | <40um Whisker* |
| Temp/Humidity | 55°C +/-3; 85% RH (+/-5) | 4000 hrs | 2000 hrs | 3 | 3 | <40um Whisker* |
| Temp Cycle | -55°C (+0 -10) to 85°C (+10 -0), 3cyc/hour | 1000 cyc | 500 cyc | 3 | 3 | <40um Whisker* |
Notes:
• Leaded parts will be mechanically preconditioned to industry standard IEC 91192-3 specification. SMD parts are preconditioned using a Lead-Free Profile, except ambient storage samples.
• Qualification samples will be from three different lots, three different date codes and plated at least 1 week apart.
• In additional to the tests above, a Dry Heat Test (55 ±5C and 50 % RH @ 35 °C for 4000 hrs) will be performed on all Sn on Zn containing (> 0.1%) base material structures.
In addition to these tests, Vishay will perform ongoing monitoring of its plating process. Qualification and reliability data is available and may be obtained by contacting your local Sales Office or Vishay Representative.
RoHS II Compliance means that in conformity to EU Directive 2011/65/EU of 8 June 2011, the six hazardous and restricted substance in the RoHS II directive, along with 4 phthalates amend in EU Directive 2015/863 on 4th June 2015, outlined in Annex II with maximum concentration values tolerated by weight to homogeneous materials, are not present except for applicable exemptions.
• Lead (0.1%)
• Mercury (0.1%)
• Cadmium (0.01%)
• Hexavalent chromium (0.1%)
• Polybrominated biphenyls (0.1%)
• Polybrominated diphenyl ethers (PBDE) (0.1%)
• Bis(2-Ethylhexyl) phthalate (DEHP) (0.1%)
• Benzyl butyl phthalate (BBP) (0.1%)
• Dibutyl phthalate (DBP) (0.1%)
• Diisobutyl phthalate (DIBP) (0.1%)

Vishay defines homogeneous materials as materials that cannot be mechanically disjointed into different materials. Examples of homogeneous materials are electroplated coating, moulding compound, insulation sleeve, lead frame alloy and bonding wires.