Vishay Intertechnology HI-TMP® Wet Tantalum Capacitors Offer Increased Reliability for Industrial and Oil Exploration Applications
Through-Hole Devices Feature Operation to +200 °C, Increased Mechanical Shock and Vibration Capabilities, and Longer Life to 1,000 Hours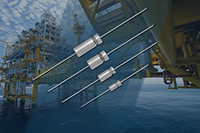 MALVERN, Pa. — Jan. 15, 2018 — Vishay Intertechnology, Inc. (NYSE: VSH) today introduced a new series of HI-TMP® tantalum-cased, hermetically sealed wet tantalum capacitors with high temperature operation to +200 °C. Offering increased reliability for industrial and oil exploration applications, T34 series axial-leaded through-hole devices deliver increased mechanical shock and vibration withstand ability, along with longer life.
Optimized for timing, filtering, energy hold-up, and pulse power applications, the capacitors released today offer high vibration (sinusoidal: 80 g; random: 54 g) and mechanical shock (500 g) capabilities, while providing a long life of 1000 hours minimum at +200 °C. Offered in the A, B, C, and D case codes, the T34 series features voltage ratings from 25 VDC to 125 VDC, a wide capacitance range from 10 µF to 470 µF — with extensions planned to match current Vishay Sprague 134D series ratings — and capacitance tolerance of ± 10 % and ± 20 % standard.
The devices operate over a temperature range of -55 °C to +85 °C, to +200 °C with voltage derating, and provide maximum ESR down to 0.75 Ω at 120 Hz and +25 °C. RoHS-compliant, halogen-free, and Vishay Green, the capacitors offer both lead (Pb)-free and tin/lead (Sn/Pb) terminations.
Samples and production quantities of the T34 series are available, with lead times of 12 weeks for larger orders.
Vishay manufactures one of the world's largest portfolios of discrete semiconductors and passive electronic components that are essential to innovative designs in the automotive, industrial, computing, consumer, telecommunications, military, aerospace, and medical markets. Serving customers worldwide, Vishay is The DNA of tech.® Vishay Intertechnology, Inc. is a Fortune 1,000 Company listed on the NYSE (VSH). More on Vishay at www.vishay.com.



https://twitter.com/vishayindust


https://www.facebook.com/VishayIntertechnology
###
HI-TMP is a registered trademark of Vishay Intertechnology