Nasstantal-Kondensatoren der Serie HI-TMP® von Vishay Intertechnology bieten höchste Zuverlässigkeit für Industrieanwendungen und bei der Erdölförderung
Bedrahtete Kondensatoren, für Betriebstemperaturen bis +200°C spezifiziert, erhöhte Stoß- und Vibrationsfestigkeit, längere Lebensdauer von bis zu 1.000 Stunden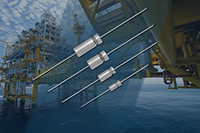 Malvern, Pennsylvania (USA) – 15. Januar 2018 — Vishay Intertechnology, Inc. (NYSE: VSH) präsentiert eine neue Serie von hermetisch dichten, für Betriebstemperaturen bis +200C spezifizierten HI-TMP®-Nasstantal-Kondensatoren im Tantalgehäuse. Die neuen, axial bedrahteten Kondensatoren der Serie T34 zeichnen sich durch erhöhte Stoß- und Vibrationsfestigkeit sowie längere Lebensdauer aus. Sie eignen sich dadurch bestens für anspruchsvolle Industrieanwendungen und bei der Erdölförderung.
Die neuen, für Timing-, Filter-, Energiespeicher- und Hochleistungs-Pulsanwendungen optimierten Kondensatoren bieten eine hohe Vibrationsfestigkeit (80 g Sinus; 54 g Zufallsverteilung) und Stoßfestigkeit (500 g) und eine entsprechend lange Lebensdauer von mindestens 1000 Stunden bei +200°C. Die Serie T34 in den Gehäusegrößen A, B, C und D deckt den Kapazitätsbereich von 10 μF bis 470 μF ab, die Nennspannungen betragen 25 VDC bis 125 VDC, die Standard-Kapazitätstoleranz beträgt ±10% oder ±20%. Eine Erweiterung des Kapazitätsbereichs entsprechend der Serie 134D von Vishay ist bereits geplant.
Die neuen Kondensatoren sind für den Betriebstemperaturbereich von –55°C bis +85°C (bis +200°C bei verminderter Betriebsspannung) spezifiziert und bieten geringe maximale ESR-Werte bis zu 0,75 Ω bei 120 Hz und +25°C. Die Kondensatoren der Serie T34 sind RoHS-konform, halogenfrei und Vishay Green; sie sind wahlweise mit bleifreien oder Zinn/Blei- (Sn/Pb) Anschlüssen erhältlich.
Die Kondensatoren der Serie T34 sind ab sofort in Muster- und Produktionsstückzahlen lieferbar; die Lieferzeit für größere Bestellmengen beträgt zwölf Wochen.
Vishay bietet eines der weltweit größten Angebote an diskreten Halbleiterbauelementen und passiven elektronischen Bauteilen, die innovative Designs ermöglichen und in den unterschiedlichsten Märkten Verwendung finden – von Automobilindustrie über Computer, Consumer-Produkte und Telekommunikation bis hin zu Luft-/Raumfahrt-/Wehrtechnik und Medizintechnik. Mit seinem weltweiten Kundenstamm ist Vishay The DNA of tech.TM Vishay Intertechnology, Inc. zählt zu den Fortune-1000-Unternehmen und ist an der New Yorker Börse (NYSE) unter dem Tickersymbol VSH notiert. Weitere Informationen über Vishay finden Sie unter www.vishay.com.



http://twitter.com/vishayindust


http://www.facebook.com/VishayIntertechnology
###
HI-TMP ist eine eingetragene Marke der Firma Vishay Intertechnology.