New Vishay Intertechnology Ceramic / Quartz-Based UVC Emitting Diode Delivers Exceptionally Long Lifetime
Device in SMT Package Features Radiant Power to 3.8 mW at 20 mA and ± 62.5° Emission Angle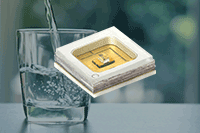 MALVERN, Pa. — Jan. 22, 2018 — Vishay Intertechnology, Inc. (NYSE: VSH) today introduced a new ceramic / quartz-based UVC (short wavelength ultraviolet) emitting diode for sterilization, sanitation, and purification applications. Designed to replace mercury UVC lamps, the Vishay Semiconductors VLMU60CL..-280-125 delivers an extremely long lifetime in a 6 mm by 6 mm by 1.6 mm surface-mount package.
Comparable to devices in the PLCC2 package with emission angles of ± 60°, the device released today offers an emission angle of ± 62.5° and high radiant power to 3.8 mW at 20 mA without the need for an external lens. Built on AlGaN technology, the VLMU60CL..-280-125 features forward current to 40 mA, forward voltage down to 4.4 V, and a wavelength range of 270 nm to 290 nm.
The emitter diode's specifications make it ideal for water and air purification, physical surface sterilization, medical disinfection, and portable sanitizers. RoHS-compliant, halogen-free, and Vishay Green, the VLMU60CL..-280-125 is compatible with reflow soldering processes and features a Moisture Sensitivity Level of 3 in accordance with J-STD-020.
Samples of the new UVC emitting diode are available now. Production quantities will be available in Q1 2018 with lead times of eight weeks.
Vishay manufactures one of the world's largest portfolios of discrete semiconductors and passive electronic components that are essential to innovative designs in the automotive, industrial, computing, consumer, telecommunications, military, aerospace, and medical markets. Serving customers worldwide, Vishay is The DNA of tech.® Vishay Intertechnology, Inc. is a Fortune 1,000 Company listed on the NYSE (VSH). More on Vishay at www.vishay.com.



https://twitter.com/vishayindust


https://www.facebook.com/VishayIntertechnology
###