Neue UV-C-Licht emittierende Diode auf Keramik-/Quarzbasis von Vishay Intertechnology überzeugt durch außergewöhnlich hohe Lebensdauer
Optoelektronischer Einzelhalbleiter im SMD-Package erzielt bis zu 3,8 mW Strahlungsleistung bei 20 mA und ± 62,5° Abstrahlwinkel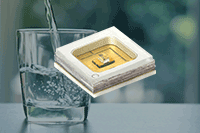 MALVERN, Pennsylvania (USA) – 22. Januar 2018 — Vishay Intertechnology, Inc. (NYSE: VSH) hat heute eine neue Diode im Keramikgehäuse mit Quarzoptik für Sterilisierungs-, Desinfektions- und Entkeimungsanwendungen vorgestellt, die Licht im UV-C-Bereich (kurzwelliges Ultraviolett) abstrahlt. Die für den Ersatz von UVC-Quecksilberlampen konzipierte VLMU60CL..-280-125 von Vishay Semiconductors bietet eine extrem hohe Lebensdauer in einem 1,6 mm flachen SMD-Package mit 6 mm Seitenlängen.
Vergleichbar zu Bauteilen im PLCC2-Gehäuse mit Abstrahlwinkeln von ± 60° bietet der heute vorgestellte Einzelhalbleiter einen Abstrahlwinkel von ± 62,5° und eine hohe Strahlungsleistung bis 3,8 mW bei 20 mA, ohne dass eine extra Optik erforderlich wäre. Die in AlGaN-Technologie hergestellte VLMU60CL..-280-125 erlaubt einen Durchlassstrom bis 40 mA, eine Durchlass¬spannung bis 4,4 V und einen Wellenlängenbereich von 270 nm bis 290 nm.
Die Spezifikation der Emitterdiode macht sie zur idealen Wahl für die Entkeimung von Wasser und Luft, die Sterilisierung von Oberflächen und die Desinfektion im medizinischen Bereich, sowie für den Einsatz in tragbaren Entkeimungsgeräten. Die RoHS-konforme, halogenfreie und Vishay Green-Anforderungen erfüllende VLMU60CL..-280-125 kann mit dem Reflow Verfahren gelötet werden und weist nach J-STD-020 die Feuchteempfindlichkeitsstufe 3 auf.
Muster dieser neuen UVC-LED sind ab sofort erhältlich. Produktionsstückzahlen können noch im ersten Quartal 2018 geliefert werden. Die Lieferzeit beträgt ca Wochen.
Vishay bietet eines der weltweit größten Angebote an diskreten Halbleiterbauelementen und passiven elektronischen Bauteilen, die innovative Designs ermöglichen und in den unterschiedlichsten Märkten Verwendung finden – von Automobilindustrie über Computer, Consumer-Produkte und Telekommunikation bis hin zu Luft-/Raumfahrt-/Wehrtechnik und Medizintechnik. Mit seinem weltweiten Kundenstamm ist Vishay The DNA of tech.® Vishay Intertechnology, Inc. zählt zu den Fortune-1000-Unternehmen und ist an der New Yorker Börse (NYSE) unter dem Tickersymbol VSH notiert. Weitere Informationen über Vishay finden Sie unter www.vishay.com.



https://twitter.com/vishayindust


https://www.facebook.com/VishayIntertechnology
###