Vishay Intertechnology's FRED Pt® Ultrafast Rectifiers in FlatPAK™ 5x6 Package Increase Power Density, Performance Efficiency, and Device Reliability
Available in Automotive Grade and Commercial / Industrial Versions, 200 V Devices Feature Low < 1 mm Profile, up to 8 A Separate Cathode Configuration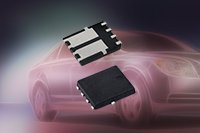 MALVERN, Pa. — Mar. 12, 2018 — Vishay Intertechnology, Inc. (NYSE: VSH) today introduced new 200 V FRED Pt® Ultrafast recovery rectifiers in the thermally efficient FlatPAK™ 5x6 package with a low profile of < 1 mm. With long term reliability assured through 2000 hours of high temperature reverse bias (HTRB) testing, the commercial / industrial VS-6DKH02-M3 and VS-8DKH02-M3 and Automotive Grade VS-6DKH02HM3 and VS-8DKH02HM3 deliver high power density and efficiency for automotive and telecom applications.
The rectifiers released today combine their low profiles with high forward current ratings of 6 A (2 x 3 A) for the VS-6DKH02-M3 and VS-6DKH02HM3 and 8 A (2 x 4 A) for the VS-8DKH02-M3 and VS-8DKH02HM3. Configured as dual-die rectifiers with separate cathode connections, the devices allow designers to simplify PCB layouts by utilizing one package instead of two smaller ones. Vishay's FlatPAK features the standard footprint of 5 x 6 QFN (quad flat no lead) packages widely used already by other technologies, such as MOSFETs, and allows for different circuit topologies.
The rectifiers' FRED Pt technology enables ultrafast recovery times down to 25 ns, low reverse recovery charge, and soft recovery features over the entire working temperature range of -55 °C to +175 °C. The devices' low forward voltage drop down to 0.7 V reduces power losses and improves efficiency. Typical applications for the AEC-Q101 qualified VS-6DKH02HM3 and VS-8DKH02HM3 include DC/DC converters in automotive engine control units (ECU), anti-lock braking systems (ABS), and HID and LED lighting, while the commercial / industrial VS-6DKH02-M3 and VS-8DKH02-M3 are optimized for telecom power supplies.
The new rectifiers feature an MSL moisture sensitivity level of 1, per J-STD-020, LF maximum peak of +260 °C. RoHS-compliant and halogen-free, the devices are ideal for automated placement and allow for automated optical inspection (AOI) in automotive systems.
Device Specification Table:
Samples and production quantities of the VS-6DKH02-M3, VS-6DKH02HM3, VS-8DKH02-M3, and VS-8DKH02HM3 are available now, with lead times of 12 to 14 weeks for large orders.
Vishay manufactures one of the world's largest portfolios of discrete semiconductors and passive electronic components that are essential to innovative designs in the automotive, industrial, computing, consumer, telecommunications, military, aerospace, and medical markets. Serving customers worldwide, Vishay is The DNA of tech.® Vishay Intertechnology, Inc. is a Fortune 1,000 Company listed on the NYSE (VSH). More on Vishay at www.vishay.com.



https://twitter.com/vishayindust


https://www.facebook.com/VishayIntertechnology
###
FlatPAK is a trademark and FRED Pt is a registered trademark of Vishay Intertechnology