FRED-Pt®-Ultrafast-Gleichrichter im FlatPAK™-5x6-Gehäuse von Vishay Intertechnology erhöhen die Leistungsdichte, die Energieeffizienz und die Zuverlässigkeit
In AEC-qualifizierten und kommerziellen/industriellen Versionen verfügbar, 200 V Nennspannung, <1 mm Bauhöhe, bis 8 A, Dual-Die-Konfiguration mit separaten Katodenanschlüssen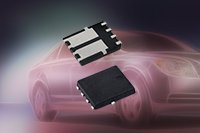 Malvern, Pennsylvania (USA) – 12. März 2018 — Vishay Intertechnology, Inc. (NYSE: VSH) präsentiert neue 200-V-FRED-Pt®-Ultrafast-Recovery-Gleichrichter im thermisch effizienten FlatPAK™-5x6-Gehäuse mit einer Bauhöhe von <1 mm. Die neuen Gleichrichter VS-6DKH02-M3 und VS-8DKH02-M3 (für kommerzielle/industrielle Anwendungen) sowie VS-6DKH02HM3 und VS-8DKH02HM3 (für Automobil-Anwendungen) stellen beim HTRB-Test (High Temperature Reverse Bias) über 2000 Stunden ihre hohe Langzeitzuverlässigkeit unter Beweis und bieten in Automobil- bzw. Telekom-Anwendungen eine hohe Leistungsdichte und Energieeffizienz.
Die neuen Gleichrichter kombinieren eine geringe Bauhöhe mit hohen Durchlassströmen von 6 A (2 x 3 A) für die Typen VS-6DKH02-M3 und VS-6DKH02HM3 bzw. 8 A (2 x 4 A) für die Typen VS-8DKH02-M3 und VS-8DKH02HM3. Die Bauteile sind als Dual-Die-Gleichrichter mit separaten Katodenanschlüssen designed und ermöglichen es Entwicklern, zwei diskrete Gleichrichter durch einen einzigen Dual-Typ zu ersetzen; dadurch vereinfacht sich das Leiterplattenlayout. Vishays FlatPAK-Gehäuse hat die gleichen Abmessungen und das gleiche Anschlussbild wie das 5x6-QFN- (Quad Flat No Lead) Gehäuse, das in großem Umfang für andere Technologien wie z. B. MOSFETs verwendet wird und vier verschiedene Schaltungstopologien erlaubt.
Die FRED-Pt-Technologie, auf der die neuen Gleichrichter basieren, ermöglicht ultrakurze Recovery-Zeiten ab 25 ns, kombiniert mit einer geringen Reverse-Recovery-Ladung und sanftem Recovery-Verhalten über den gesamten Betriebstemperaturbereich von –55°C bis +175°C. Die kleine Durchlassspannung ab 0,7 V reduziert die Leistungsverluste und verbessert die Energieeffizienz. Typische Anwendungen für die AEC-Q101-qualifizierten Typen VS-6DKH02HM3 und VS-8DKH02HM3 sind Gleichspannungswandler in Motorsteuerungen (ECUs), Antiblockiersystemen (ABS) sowie HID- und LED-Beleuchtungssystemen. Die kommerziellen/industriellen Versionen VS-6DKH02-M3 und VS-8DKH02-M3 wurden für Telekom-Stromversorgungen optimiert.
Die neuen Gleichrichter erfüllen die MSL-1 (Moisture Sensitivity Level 1) Anforderungen des Standards J-STD-020 und können bleifrei mit einer Maximaltemperatur von +260°C gelötet werden. Die RoHS-konformen und halogenfreien Gleichrichter eignen sich ideal für Automobilelektronik-Baugruppen, die automatisch bestückt und einer automatischen optischen Inspektion (AOI) unterzogen werden.
Die wichtigsten Spezifikationen:
Die Gleichrichter VS-6DKH02-M3, VS-6DKH02HM3, VS-8DKH02-M3 und VS-8DKH02HM3 sind ab sofort verfügbar; die Lieferzeit für große Bestellmengen beträgt 12 bis 14 Wochen.
Vishay bietet eines der weltweit größten Angebote an diskreten Halbleiterbauelementen und passiven elektronischen Bauteilen, die innovative Designs ermöglichen und in den unterschiedlichsten Märkten Verwendung finden – von Automobilindustrie über Computer, Consumer-Produkte und Telekommunikation bis hin zu Luft-/Raumfahrt-/Wehrtechnik und Medizintechnik. Mit seinem weltweiten Kundenstamm ist Vishay The DNA of tech.® Vishay Intertechnology, Inc. zählt zu den Fortune-1000-Unternehmen und ist an der New Yorker Börse (NYSE) unter dem Tickersymbol VSH notiert. Weitere Informationen über Vishay finden Sie unter www.vishay.com.



https://twitter.com/vishayindust


https://www.facebook.com/VishayIntertechnology
###
FlatPAK ist eine Marke und FRED Pt ist eine eingetragene Marke von Vishay Intertechnology.