Snap-in-Aluminum-Leistungskondensatoren von Vishay Intertechnology sparen Platz und senken die Produktionskosten von Stromversorgungen, Solar-Wechselrichtern und Motorsteuerungen
Erhöhte Ripplestrombelastbarkeit bis 4,42 A und lange Lebensdauer
von 3000 Stunden bei 105°C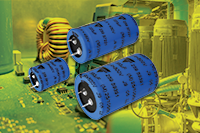 Malvern, Pennsylvania (USA) — 16. Mai 2018 — Vishay Intertechnology, Inc. (NYSE: VSH) präsentiert eine neue Serie von Miniatur-Snap-in-Aluminium-Leistungskondensatoren. Die neue Serie 259 PHM-SI von Vishay BCcomponents bietet eine um 30% höhere Ripplestrombelastbarkeit als vergleichbare Kondensatoren der Vorgängergeneration, verbunden mit einer langen Lebensdauer.
Die hohe Ripplestrombelastbarkeit von bis zu 4,42 A ermöglicht es Entwicklern, Bauteile, Leiterplattenfläche und Kosten einzusparen. Durch ihre lange Lebensdauer von 3000 Stunden bei 105°C eignen sich die neuen Kondensatoren für anspruchsvolle Anwendungen, die eine Kondensator-Lebensdauer von über 10 Jahren bei Umgebungstemperaturen bis 60°C erfordern.
Die Kondensatoren der Serie 259 PHM-SI besitzen ein zylindrisches Gehäuse mit einer blauen Isolierhülle, haben Nennspannungen bis 500 V und sind in 25 kompakten Gehäusegrößen von 22 mm x 25 mm bis 35 mm x 60 mm verfügbar. Die RoHS-konformen Kondensatoren sind auch in einer 3-poligen, polaritätscodierten Snap-in-Version erhältlich.
Diese neuen Aluminium-Elektrolytkondensatoren eignen sich ideal für die Pufferung, Filterung und Energiespeicherung in kompakten Leistungsanwendungen, wie z.B. Stromversorgungen für Serverfarmen oder Industriewerkzeuge wie Plasmaschneider, Motorsteuerungen für Kompressoren in industriellen Kühlsystemen und Lampentreiber für industrielle UV-Wasseraufbereitungsanlagen.
Die wichtigsten Spezifikationen:
Gehäusegröße (D x L in mm)

22 x 25 bis 35 x 60

Kapazitätsbereich

39 µF bis 2200 µF

Toleranz

±20%

Ripplestrombelastbarkeit
bei 100 Hz und +105°C

0.53 A bis 4.42 A

Nennspannung

200 V bis 500 V

Temperaturkategorie

—40°C bis +105°C

Lebensdauer bei +105°C

3000 h

Max. ESR bei 100 Hz

80 mΩ bis 3.31 Ω

Max. Max. Impedanz bei 10 kHz

60 mΩ bis 2.44 Ω

Rahmenspezifikation

IEC 60384-4/EN130300

Klimakategorie nach
IEC 60068

40/105/56
Die Kondensatoren der Serie 259 PHM-SI sind ab sofort in Muster- und Produktionsstückzahlen mit einer Lieferzeit von 15 Wochen lieferbar. 
Weitere Informationen:
Aluminium-Elektrolytkondensatoren von Vishay
Abfrage der Lagerbestände von Distributoren
Jede Woche aktuelle Informationen: Anmeldung zum Vishay Newsfeed
Vishay bietet eines der weltweit größten Angebote an diskreten Halbleiterbauelementen und passiven elektronischen Bauteilen, die innovative Designs ermöglichen und in den unterschiedlichsten Märkten Verwendung finden – von Automobilindustrie über Computer, Consumer-Produkte und Telekommunikation bis hin zu Luft-/Raumfahrt-/Wehrtechnik und Medizintechnik. Mit seinem weltweiten Kundenstamm ist Vishay The DNA of tech.® Vishay Intertechnology, Inc. zählt zu den Fortune-1000-Unternehmen und ist an der New Yorker Börse (NYSE) unter dem Tickersymbol VSH notiert. Weitere Informationen über Vishay finden Sie unter www.vishay.com.



https://twitter.com/vishayindust


https://www.facebook.com/VishayIntertechnology
###