Direkt wassergekühlte Drahtwiderstände von Vishay Intertechnology sparen Platz und erhöhen die Zuverlässigkeit
Die für industrielle Anwendungen vorgesehenen Widerstände bieten bei kompakten Abmessungen ultra-hohe Nennbelastbarkeiten bis 9000 W und geben so gut wie keine Wärme nach außen ab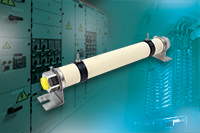 Malvern, Pennsylvania (USA) – 18. Juni 2018 – Vishay Intertechnology, Inc. (NYSE: VSH) präsentiert eine neue Serie direkt wassergekühlter Drahtwiderstände mit ultra-hohen Nennbelastbarkeiten bis 9000 W, die so gut wie keine Wärme nach außen abgeben. Die neuen Widerstände der Serie Vishay MCB DCRF mit Abmessungen von 38 mm x 178 mm bis 38 mm x 410 mm sparen im Vergleich zu Standard-Drahtwiderständen Platz und erhöhen die Zuverlässigkeit.
Die neuen Widerstände sind im Vergleich zu konvektionsgekühlten Modellen gleicher Größe zehnmal höher belastbar und im Vergleich zu indirekt wassergekühlten Modellen doppelt so hoch belastbar. Die Widerstände der Serie DCRF ermöglichen es, mehrere herkömmliche Widerstände durch einen einzigen Widerstand zu ersetzen. Das spart Kosten, vereinfacht Layouts und ermöglicht kleinere Endprodukte. Die modulare Struktur dieser Widerstände erlaubt Sonderausführungen mit mehreren Widerstandselementen.
Die Widerstände der Serie DCRF wurden für Last-, Filter-, Snubber- und Entlade-Anwendungen in Großmotoren, HVDC- und industriellen Batteriemanagement-Systemen optimiert. Die Widerstandselemente sind durch Keramikröhren isoliert, haben direkten Kontakt zum Kühlwasser und benötigen keinen Kühlkörper. Die Widerstände geben so gut wie keine Wärme nach außen ab und erhöhen durch ihre niedrige Oberflächentemperatur die Zuverlässigkeit. Ein sicherer Ausfallmodus verhindert das Auslaufen des Wassers im Falle einer Unterbrechung des Wasserflusses. Die Widerstände überstehen eine Ãœberlastung in Höhe der zweifachen Nennlast für 60 s, ohne Schaden zu nehmen.
Die DCRF-Serie ist induktivitätsarm (< 500 nH für das Modell DCRF 38 x178, 4,7 W), deckt den Wertebereich von 0,56 W bis 27 W ab und ist mit Toleranzen ab ±5% erhältlich. Die Widerstände bieten Nennbelastbarkeiten von 1500 W bis 9000 W bei einer Wassereinlasstemperatur von 65°C und einer Durchflussrate von 8,33 l/min (entionisiertes Wasser mit einer Leitfähigkeit < 2 µS/cm). Die Widerstände sind RoHS-konform und bleifrei, haben einen Temperaturkoeffizienten von 100 ppm/°C (typ.) und sind für den Betriebstemperaturbereich von –55°C bis +120°C spezifiziert.
Die Widerstände der Serie DRCF in der Größe 38 mm x 178 mm mit Widerstandswerten von 1,6 W und 3,2 W sind ab sofort in Muster- und Produktionsstückzahlen verfügbar. Die Lieferzeit für größere Bestellmengen beträgt 15 Wochen.
Weitere Informationen:
Wassergekühlte Widerstände von Vishay
Abfrage der Lagerbestände von Distributoren
Jede Woche aktuelle Informationen: Anmeldung zum Vishay Newsfeed
Vishay bietet eines der weltweit größten Angebote an diskreten Halbleiterbauelementen und passiven elektronischen Bauteilen, die innovative Designs ermöglichen und in den unterschiedlichsten Märkten Verwendung finden – von Automobilindustrie über Computer, Consumer-Produkte und Telekommunikation bis hin zu Luft-/Raumfahrt-/Wehrtechnik und Medizintechnik. Mit seinem weltweiten Kundenstamm ist Vishay The DNA of tech.® Vishay Intertechnology, Inc. zählt zu den Fortune-1000-Unternehmen und ist an der New Yorker Börse (NYSE) unter dem Tickersymbol VSH notiert. Weitere Informationen über Vishay finden Sie unter www.vishay.com.



https://twitter.com/vishayindust


https://www.facebook.com/VishayIntertechnology
###