Neue Planar-Hochstrom-Drosseln von Vishay sind genauso leistungsfähig wie drahtgewickelte Modelle, brauchen dabei aber viel weniger Platz
Die in zahlreichen kundenspezifischen Varianten erhältlichen Drosseln der Serie IPLA 32 sind für Hochstrom-Gleichspannungswandler mit hoher Leistungsdichte in Automobil- und Embedded-Anwendungen vorgesehen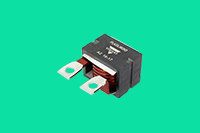 MALVERN, Pa. — 4. Juni 2018 — Vishay Intertechnology (NYSE: VSH) präsentiert eine neue Serie von Planar-Hochstrom Drosseln, die genauso leistungsfähig wie drahtgewickelte Modelle sind, dabei aber viel weniger Platz beanspruchen. Die neuen Drosseln der Serie IPLA 32 mit einer Größe von nur 31 mm x 43 mm x 22,2 mm sind für Nennströme bis 110 A ausgelegt und ermöglichen Gleichspannungswandlung mit hoher Leistungsdichte bei wesentlich kleinerer Grundfläche als bisher.                                              
Die für Arbeitsfrequenzen von 100 kHz bis 800 kHz empfohlenen Drosseln der Serie IPLA 32 ermöglichen kompaktere und leichtere Gleichspannungswandler für Anwendungen in Elektro- und Hybridfahrzeugen, Off-Road-Fahrzeugen wie Gabelstaplern und Embedded-Systemen aller Art. Die Serie IPLA 32 ist standardmäßig in den Induktivitätswerten 1 μH, 2 μH, 3 μH und 4 μH verfügbar. Die Drosseln sind zur Minimierung von Störstrahlung magnetisch abgeschirmt, haben eine hohe Eigenresonanzfrequenz und zeichnen sich durch hervorragende Temperaturstabilität aus.
Zusätzlich zu den Standardversionen sind auch spezielle Varianten erhältlich, beispielsweise mit anderem Anschlusslayout, anderen Strombelastbarkeiten oder anderen Induktivitätswerten. Die Bauteile sind für den Betriebstemperaturbereich von —55°C bis +125°C spezifiziert und haben Wärmewiderstandswerte von 2 W/°C bis 10,5 W/°C (typ.); der in der Praxis erzielbare Wärmewiderstand ist von der Bauform des verwendeten Kühlkörpers abhängig. Für eine schnelle und einfache Integration in neue Designs sind 3D-CAD-Modelle verfügbar.
Die Planar-Hochstrom-Drosseln der Serie IPLA 32 sind ab sofort in Muster- und Produktionsstückzahlen lieferbar; die Lieferzeit für größere Bestellmengen beträgt zwölf Wochen.
Weitere Informationen:
Abfrage der Lagerbestände von Distributoren
Jede Woche aktuelle Informationen: Anmeldung zum Vishay Newsfeed
Vishay bietet eines der weltweit größten Angebote an diskreten Halbleiterbauelementen und passiven elektronischen Bauteilen, die innovative Designs ermöglichen und in den unterschiedlichsten Märkten Verwendung finden – von Automobilindustrie über Computer, Consumer-Produkte und Telekommunikation bis hin zu Luft-/Raumfahrt-/Wehrtechnik und Medizintechnik. Mit seinem weltweiten Kundenstamm ist Vishay The DNA of tech.® Vishay Intertechnology, Inc. zählt zu den Fortune-1000-Unternehmen und ist an der New Yorker Börse (NYSE) unter dem Tickersymbol VSH notiert. Weitere Informationen über Vishay finden Sie unter www.vishay.com.



https://twitter.com/vishayindust


https://www.facebook.com/VishayIntertechnology
###