AEC-Q200-qualifizierter 150-W-Dickschicht-Leistungswiderstand im Clip-Mount-TO247-Gehäuse von Vishay Intertechnology spart Bauteile und Kosten
 AEC-Q200-qualifizierter 150-W-Dickschicht-Leistungswiderstand im Clip-Mount-TO247-Gehäuse von Vishay Intertechnology spart Bauteile und Kosten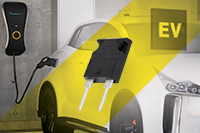 Malvern, Pennsylvania (USA) – 30. Juli 2018 – Vishay Intertechnology, Inc. (NYSE: VSH) präsentiert einen neuen AEC-Q200-qualifizierten Dickschicht-Leistungswiderstand mit Clip-Mount-TO247-Gehäuse für direkte Kühlkörpermontage. Der für Automobilanwendungen vorgesehene LTO 150 von Vishay Sfernice bietet eine Nennbelastbarkeit von 150 W bei +45°C Gehäusetemperatur – das ist Branchenrekord – und eine erhöhte Pulsfestigkeit.
Der neue Widerstand bietet eine bis zu 70% höhere Nennbelastbarkeit als Wettbewerbsprodukte im TO247-Gehäuse, wodurch zusätzliche Bauteile zur Kühlung des Widerstands entfallen können – dadurch vereinfacht sich das Layout, zudem werden Leiterplattenfläche und Kosten eingespart. Als weiterer Vorteil kommt noch die um 30% höhere Pulsfestigkeit hinzu, verglichen mit anderen Typen im TO247 Gehäuse. Dadurch können Entwickler eventuell mehrere Widerstände durch einen einzigen ersetzen.
Der LTO 150 erlaubt hohe Betriebstemperaturen bis +175°C und deckt den weiten Wertebereich von 0,03 Ω bis 1,3 MΩ ab. Er eignet sich zur Verwendung als Lade- oder Entladewiderstand für Wechselrichter, Energiewandler sowie On-board-Lader für Elektroautos (EV), Hybrid-Elektroautos (HEV) und Plug-in-Hybrid Elektroautos (PHEV). Darüber hinaus kann er in allgemeinen industriellen und militärischen Energiewandler-Anwendungen eingesetzt werden. Das RoHS-konforme Bauteil ist induktivitätsfrei, mit Toleranzen ab ±1% erhältlich und hat bei Zuverlässigkeitstests (bis zu 1000 und mehr Temperaturzyklen) überragend gut abgeschnitten.
Der neue Widerstand ist ab sofort in Muster- und Produktionsstückzahlen lieferbar; die Lieferzeit beträgt acht bis zwölf Wochen. 
Vishay bietet eines der weltweit größten Angebote an diskreten Halbleiterbauelementen und passiven elektronischen Bauteilen, die innovative Designs ermöglichen und in den unterschiedlichsten Märkten Verwendung finden – von Automobilindustrie über Computer, Consumer-Produkte und Telekommunikation bis hin zu Luft-/Raumfahrt-/Wehrtechnik und Medizintechnik. Mit seinem weltweiten Kundenstamm ist Vishay The DNA of tech.TM Vishay Intertechnology, Inc. zählt zu den Fortune-1000-Unternehmen und ist an der New Yorker Börse (NYSE) unter dem Tickersymbol VSH notiert. Weitere Informationen über Vishay finden Sie unter www.vishay.com.



http://twitter.com/vishayindust


http://www.facebook.com/VishayIntertechnology
###