Vishay Intertechnology wird am
2018 SPCD International Symposium teilnehmen
Vishay Intertechnology wird am
2018 SPCD International Symposium teilnehmen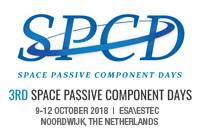 Malvern, Pennsylvania (USA) – 2. Oktober 2018 – Vishay Intertechnology, Inc. (NYSE: VSH) gibt bekannt, dass das Unternehmen auf dem 2018 Space Passive Component Days (SPCD) International Symposium (9.-12. Oktober in Noordwijk, Niederlande) einen Fachvortrag über Wet-Tantalum-Kondensatoren halten und seine neuesten passiven Bauelemente vorstellen wird.
Der Vortrag mit dem Titel "Advances in Wet Tantalum Capacitor Technology", der am Freitag, den 12. Oktober, um 10:20 Uhr beginnt, wird von Mike Mosier, Senior Director, Product Marketing, Vishay Tantalum Capacitors gehalten. Als Co-Autor hat Jean Racine, Vice President of Tantalum Capacitor Marketing Projects, mitgewirkt.
Der Fachvortrag zeigt die Vorteile der hermetisch verschlossenen Wet-Tantalum-Kondensatoren im Vergleich zu diversen anderen Tantal-Typen auf, wie längere Lebensdauer, kleinere DC-Leckströme, höhere Nennspannungen, größere Kapazitäten und herausragende mechanische Robustheit. Es werden die neuesten technologischen Entwicklungen vorgestellt, die zu höherer Temperatur-, Schock- und Vibrationsfestigkeit, größeren Kapazitäten und kleineren ESR-Werten geführt und SMT-Bauformen möglich gemacht haben.
"Mit Kondensatoren wie unseren Serien T16 und T22 ist Vishay führend in den Weiterentwicklung von Wet-Tantalum-Kondensatoren mit Blick auf die hohen Anforderungen von Raumfahrt-Anwendungen. "Wir freuen uns darauf, auch weiterhin an der kontinuierlichen Weiterentwicklung dieser kritischen Bauelemente zu arbeiten – sei es in Bezug auf die elektrische Leistungsfähigkeit, Umweltfreundlichkeit oder Miniaturisierung – um mit den sich ändernden Anforderungen der Elektronikentwickler Schritt zu halten."
Während des SPCD-Symposiums präsentiert Vishay auf seinem Stand seine neuesten passiven Bauelemente für Raumfahrt-Anwendungen. Das von der Europäischen Raumfahrtagentur (ESA, European Space Agency) und dem Europäisches Raumfahrtforschungs- und Technologiezentrum (ESTEC, European Space Research und Technology Centre) veranstaltete SPCD-Symposium gilt als die wichtigste Fachkonferenz über passive Bauelemente für die Raumfahrt. Weitere Informationen über diese Veranstaltung finden Sie unter https://www.spcd.space/.
Vishay bietet eines der weltweit größten Angebote an diskreten Halbleiterbauelementen und passiven elektronischen Bauteilen, die innovative Designs ermöglichen und in den unterschiedlichsten Märkten Verwendung finden – von Automobilindustrie über Computer, Consumer-Produkte und Telekommunikation bis hin zu Luft-/Raumfahrt-/Wehrtechnik und Medizintechnik. Mit seinem weltweiten Kundenstamm ist Vishay The DNA of tech.® Vishay Intertechnology, Inc. zählt zu den Fortune-1000-Unternehmen und ist an der New Yorker Börse (NYSE) unter dem Tickersymbol VSH notiert. Weitere Informationen über Vishay finden Sie unter www.vishay.com.



https://twitter.com/vishayindust


https://www.facebook.com/VishayIntertechnology
###