Vishay Intertechnology Launches New SensorXplorerTM Starter Kit
Test Drive Vishay's Sensor Solutions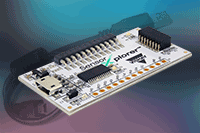 MALVERN, Pa. — April 30, 2018 — The Optoelectronics group of Vishay Intertechnology, Inc. (NYSE: VSH) has introduced a new demo kit that allows users to test drive Vishay's ambient light, proximity, UVA light, and RGBW color sensor solutions. Providing a USB to I2C interface, 3.3 V regulator, and GPIOs for reading and displaying sensor data on a PC, the new SensorXplorer™ allows designers to explore the capabilities of the Vishay sensors featured on Vishay's sensor demo boards.
The kit introduced today includes the SensorXplorer demo board, which acts as a USB to I2C interface between the PC software and individual Vishay sensor demo boards. An included micro-USB cable connects the board to the PC. The USB dongle is backwards-compatible, allowing for the use of sensor boards previously purchased with the Sensor Starter Kit.
LabVIEW-based software for the SensorXplorer Kit, in addition to an installation application note, is available for download at http://www.Vishay.com/ref/SensorXplorer. Users of the previous Sensor Starter Kit will also need to download the new software.
The SensorXplorer Kit is available now, with lead times of 8 to 10 weeks.
For the latest in all things Opto — articles, videos, and products — visit Vishay's Opto Squad blog site: www.vishayopto.com.
Vishay manufactures one of the world's largest portfolios of discrete semiconductors and passive electronic components that are essential to innovative designs in the automotive, industrial, computing, consumer, telecommunications, military, aerospace, and medical markets. Serving customers worldwide, Vishay is The DNA of tech.® Vishay Intertechnology, Inc. is a Fortune 1,000 Company listed on the NYSE (VSH). More on Vishay at www.vishay.com.



https://twitter.com/vishayindust


https://www.facebook.com/VishayIntertechnology
###