Vishay Intertechnology präsentiert neues
SensorXplorerÔ-Starter-Kit
Vishay Intertechnology präsentiert neues
SensorXplorerÔ-Starter-Kit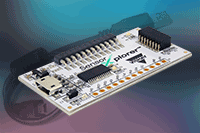 Malvern, Pennsylvania (USA) — 30. April 2018 — Die Optoelectronics Group von Vishay Intertechnology, Inc. (NYSE: VSH) präsentiert ein neues Demo-Kit, das es Entwicklern ermöglicht, die Umgebungslicht-, Näherungs-, UVA-Licht- und RGBW-Farbsensor-Lösungen von Vishay zu erproben. Das neue SensorXplorer™-Kit umfasst eine USB-zu-I2C-Schnittstelle, einen 3,3-V-Spannungsregler sowie GPIOs zur Abfrage und Anzeige von Sensordaten durch einen PC. Es ermöglicht Entwicklern, sich in Verbindung mit den entsprechenden Sensor-Demo-Boards von der Leistungsfähigkeit der Vishay Sensoren zu überzeugen.
Das neue Kit besteht im Wesentlichen aus dem SensorXplorer-Demo-Board, das als USB-zu-I2C-Schnittstelle zwischen einem PC, der PC-Software und dem jeweiligen Vishay-Sensor-Demo-Board dient. Das Board wird über ein mitgeliefertes micro-USB-Kabel mit dem Host-PC-verbunden. Der USB-Dongle ist abwärtskompatibel und unterstützt vorhandene Sensor-Boards, die mit dem früheren Sensor-Starter-Kit erworben wurden.
LabVIEW-basierte Software für das SensorXplorer-Kit sowie eine Installationsanleitung können hier heruntergeladen werden: http://www.Vishay.com/ref/SensorXplorer. Um das neue SensorXplorer-Kit nutzen zu können, müssen Besitzer des Sensor-Starter-Kits -die neue Software herunterladen.
Das SensorXplorer-Kit ist ab sofort verfügbar, die Lieferzeit beträgt acht bis zehn Wochen.
Brandaktuelle Informationen zum Thema Optoelektronik — darunter Fachartikel, Videos und Produktbeschreibungen — finden Sie in Vishays Opto Squad Blog unter www.vishayopto.com.
Vishay bietet eines der weltweit größten Angebote an diskreten Halbleiterbauelementen und passiven elektronischen Bauteilen, die innovative Designs ermöglichen und in den unterschiedlichsten Märkten Verwendung finden – von Automobilindustrie über Computer, Consumer-Produkte und Telekommunikation bis hin zu Luft-/Raumfahrt-/Wehrtechnik und Medizintechnik. Mit seinem weltweiten Kundenstamm ist Vishay The DNA of tech.TM Vishay Intertechnology, Inc. zählt zu den Fortune-1000-Unternehmen und ist an der New Yorker Börse (NYSE) unter dem Tickersymbol VSH notiert. Weitere Informationen über Vishay finden Sie unter www.vishay.com.



http://twitter.com/vishayindust


http://www.facebook.com/VishayIntertechnology
###