Vishay Intertechnology präsentiert AEC-Q101-qualifizierte
\_x000D_ 3- und 4-Kanal-Lichtschrankensensoren für kombinierte Drehknöpfe/Drucktaster sowie für absolute und inkrementelle Encoder
SMD-Lichtschrankensensoren, nur 5,5 mm x 5,85 mm x 7 mm groß,
\_x000D_ für Automobil- und Industrie-Anwendungen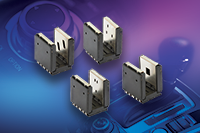 Malvern, Pennsylvania (USA) — 18. April 2018 — Vishay Intertechnology, Inc. (NYSE: VSH) präsentiert zwei neue, AEC-Q101-qualifizierte Lichtschrankensensoren für Automobil- und Industrie-Anwendungen. Die neuen, nur 5,5 mm x 5,85 mm x 7 mm großen Lichtschrankensensoren TCUT1630X01 und TCUT1800X01 von Vishay Semiconductors sind die weltweit ersten 3- bzw. 4-Kanal-Sensoren dieser Art.
Der 3-Kanal-Sensor TCUT1630X01 vereint in einem SMT-Gehäuse einen Infrarotsender und drei gegenüberstehende Phototransistor-Detektoren. Das Bauteil besitzt höhere Seitenwände als die Sensoren der Vorgängergeneration und bietet einen zusätzlichen Kanal für eine Drucktaster- oder vertikale Zustandsdetektor-Funktion; es eignet sich dadurch ideal für kombinierte Drehknopf/Drucktaster Applikationen. Der 4-Kanal-Sensor TCUT1800X01 enthält zwei Infrarotsender und vier Phototransistor-Detektoren, kann bis zu 16 Positionen erkennen und eignet sich bestens sowohl für absolute als auch inkrementelle Encoder.
Beide Sensoren können Bewegung, Geschwindigkeit und Richtung erkennen. Sie eignen sich als Positionsgeber in motornahen Automobilumgebungen sowie für Drehknöpfe, Zündschlösser, adaptive Scheinwerfer und elektrische Servolenkungen (EPS). In industriellen Anwendungen eignen sich die Sensoren ideal für die Ãœberwachung von Gas- oder Wasserzählern und für die Zustandserfassung von Türen, Bedienfeldern, eingeworfenen Münzen oder eingeführten Kreditkarten.
Die Lichtschrankensensoren TCUT1630X01 und TCUT1800X01 liefern einen typischen Ausgangsstrom von 1,3 mA und haben eine Arbeitswellenlänge von 950 nm. Sie haben eine Spaltweite von 3 mm und eine Apertur von 0,3 mm und sind für den weiten Betriebstemperaturbereich von —40°C bis +105°C spezifiziert. Die Lichtschrankensensoren TCUT1630X01 und TCUT1800X01 erfüllen die Anforderungen der Feuchtigkeitsempfindlichkeitsklasse (MSL, Moisture Sensitivity Level) 1 und haben eine unbegrenzte Floor-Life-Zeit. Die Bauteile sind mit JEDEC-STD-020D-konformen Reflow-Lötprozessen kompatibel, RoHS-konform, halogenfrei und Vishay Green.
Die neuen Lichtschrankensensoren sind ab sofort in Muster- und Produktionsstückzahlen lieferbar; die Lieferzeit für große Bestellmengen beträgt acht bis zehn Wochen.
Brandaktuelle Informationen zum Thema Optoelektronik — darunter Fachartikel, Videos und Produktbeschreibungen — finden Sie in Vishays Opto Squad Blog unter www.vishayopto.com.
Vishay bietet eines der weltweit größten Angebote an diskreten Halbleiterbauelementen und passiven elektronischen Bauteilen, die innovative Designs ermöglichen und in den unterschiedlichsten Märkten Verwendung finden – von Automobilindustrie über Computer, Consumer-Produkte und Telekommunikation bis hin zu Luft-/Raumfahrt-/Wehrtechnik und Medizintechnik. Mit seinem weltweiten Kundenstamm ist Vishay The DNA of tech.TM Vishay Intertechnology, Inc. zählt zu den Fortune-1000-Unternehmen und ist an der New Yorker Börse (NYSE) unter dem Tickersymbol VSH notiert. Weitere Informationen über Vishay finden Sie unter www.vishay.com.



http://twitter.com/vishayindust


http://www.facebook.com/VishayIntertechnology
###