Vishay Intertechnology präsentiert langlebige Ultraviolett- (UVC) LED im kompakten Keramik/Quarzglas-SMD-Gehäuse
Die neue UVC-LED VLMU35CL..-280-120 ist nur 3,5 mm x 3,5 mm x 1,2 mm groß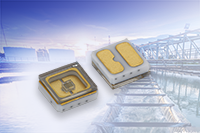 Malvern, Pennsylvania (USA) – 17. Juli 2019 – Vishay Intertechnology, Inc. (NYSE: VSH) hat sein Angebot an LEDs für den kurzwelligen Ultraviolettbereich (UVC) um ein kompaktes SMD-Modell für Sterilisations-, Hygiene- und Reinigungsanwendungen erweitert. Die neue UVC-LED VLMU35CL..-280-120 von Vishay Semiconductors im 3,5 mm x 3,5 mm x 1,2 mm kleinin SMD-Gehäuse ist als Ersatz für Quecksilber-UVC-Lampen gedacht; sie besitzt ein UV-Lichtstabiles Quarzglasfenster und zeichnet sich durch eine extrem lange Lebensdauer aus.
Die neue LED hat einen Abstrahlwinkel von ±60° und eine hohe Strahlungsleistung von bis zu 3,2 mW bei 20 mA bzw. 7,5 mW bei 50 mA. Die auf AlGaN-Technologie basierende UVC-LED VLMU35CL..-280-12 hat eine maximale Durchlassspannung von 6,5 V, liefert Licht im Wellenlängenbereich von 265 nm bis 285 nm und erlaubt Treiberströme bis 70 mA; zum Vergleich: typische Wettbewerbsprodukte sind nur für Treiberströme bis 30 mA ausgelegt.
Dank dieser Spezifikationen eignen sich die neuen LEDs ideal für Anwendungen wie: Wasser- und Luftreinigung, Oberflächensterilisation, Desinfizierung medizinischer Geräte und tragbare Desinfektionsgeräte. Die UVC-LED VLMU35CL..-280-120 ist RoHS-konform, halogen-frei und Vishay Green; sie ist mit Reflow-Lötprozessen kompatibel und erfüllt die Anforderungen des Standards J-STD-020 Moisture Sensitivity Level 3.
Muster der neuen UV-LEDs sind ab Lager lieferbar. Die Lieferzeit für Produktionsstückzahlen beträgt vier bis sechs Wochen.
Vishay bietet eines der weltweit größten Angebote an diskreten Halbleiterbauelementen und passiven elektronischen Bauteilen, die innovative Designs ermöglichen und in den unterschiedlichsten Märkten Verwendung finden – von Automobilindustrie über Computer, Consumer-Produkte und Telekommunikation bis hin zu Luft-/Raumfahrt-/Wehrtechnik und Medizintechnik. Mit seinem weltweiten Kundenstamm ist Vishay The DNA of tech.TM Vishay Intertechnology, Inc. zählt zu den Fortune-1000-Unternehmen und ist an der New Yorker Börse (NYSE) unter dem Tickersymbol VSH notiert. Weitere Informationen über Vishay finden Sie unter www.vishay.com.



http://twitter.com/vishayindust


http://www.facebook.com/VishayIntertechnology
###