Neu von Vishay Intertechnology: extrem langlebige Ultraviolett-LEDs mittlerer Leistung mit Quarzglas-Fenster
LEDs mit Keramiksubstrat im nur 3,5 mm x 3,5 mm x 1,2 mm großen
SMD-Gehäuse liefern bis zu 22 mW Lichtleistung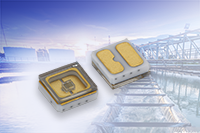 Malvern, Pennsylvania (USA) – 7. Februar 2019 – Vishay Intertechnology, Inc. (NYSE: VSH) präsentiert eine für Sterlisations-, Sanitär- und Reinigungsanwendungen vorgesehene Ultraviolett-LED-Serie mit Keramiksubstrat (UVC). Die neuen LEDs der Serie VLMU35CM..-280-120 von Vishay Semiconductors im nur 3,5 mm x 3,5 mm x 1,2 mm großen SMD-Gehäuse besitzen ein Quarzglas-Fenster und sind extrem langlebig.
Die neuen, als umweltfreundlicher Ersatz für Quecksilberdampf-UV-Lampen vorgesehenen LEDs haben einen Abstrahlwinkel von ±60° und eine Strahlungsleistung von bis zu 22 mW bei 100 mA, sie benötigen keine externe Linse. Die auf AlGaN-Technologie basierenden LEDs der Serie VLMU35CM..-280-120 erlauben Betriebsströme bis 150 mA und haben Durchlassspannungen ab 4 V, die Emissionswellenlänge beträgt 265 nm bis 285 nm.
Dank dieser Spezifikationen eignen sich die neuen LEDs ideal für Anwendungen wie: Wasser- und Luftreinigung, Oberflächensterilisation, Desinfektion im medizinischen Bereich und tragbare Desinfektionsgeräte. Die UV-LEDs der Serie VLMU35CM..-280-120 sind RoHS-konform, halogen-frei und Vishay Green; sie sind mit Reflow-Lötprozessen kompatibel und erfüllen die Anforderungen des Standards J-STD-020 Moisture Sensitivity Level 3.
Muster der neuen UV-LEDs sind ab Lager lieferbar. Die Lieferzeit für Produktionsstückzahlen beträgt vier Wochen. 
Vishay bietet eines der weltweit größten Angebote an diskreten Halbleiterbauelementen und passiven elektronischen Bauteilen, die innovative Designs ermöglichen und in den unterschiedlichsten Märkten Verwendung finden – von Automobilindustrie über Computer, Consumer-Produkte und Telekommunikation bis hin zu Luft-/Raumfahrt-/Wehrtechnik und Medizintechnik. Mit seinem weltweiten Kundenstamm ist Vishay The DNA of tech.TM Vishay Intertechnology, Inc. zählt zu den Fortune-1000-Unternehmen und ist an der New Yorker Börse (NYSE) unter dem Tickersymbol VSH notiert. Weitere Informationen über Vishay finden Sie unter www.vishay.com.



http://twitter.com/vishayindust


http://www.facebook.com/VishayIntertechnology
###