Custom Case Study
The customer approached Vishay when their existing panel potentiometer supplier discontinued production of a part used on an established and popular piece of equipment. To avoid a costly redesign, an existing panel potentiometer needed to be adapted to meet the customer's electrical requirements. It would also have to fit the control panel insertion / retention envelope and existing markings, in addition to the PCB assembly attachment system.
The Vishay P11 family consists of 12.5 mm single-turn panel potentiometers with numerous mechanical and electrical options, including resistance values between 20 Ω and 10 MΩ, integrated rotary and push-push switches, center tap and detent modules, and custom mechanical travel values between 90° and 300°.
The devices' flexibility ensured that the customer's previously used potentiometer could be replicated electrically. In addition, specifically matching the existing mechanical travel value eliminated the need for any changes in visual markings on the control panel cover itself, which saved a costly redesign and the associated wasted time.
Meeting the mechanical and manufacturing requirements would prove to be more complicated. The standard mechanical shaft options were not directly equivalent, and the knob didn't match the others currently being used. In addition, the standard P11 through-hole pins used for soldering the potentiometer to the PCB would require a secondary manufacturing operation during assembly. A solderless PCB connection would therefore be a much more desirable and cost-effective solution.
Utilizing the P11 potentiometer body for this application meant it needed to be installed through a standard 22 mm diameter cut-out in the control panel, and, if possible, connected by a simple screw clamp like the other panel controls. To achieve this required integrating a custom shaft design that matched the panel's existing knobs. These features were designed, and the custom shaft was integrated into the P11 body assembly, thereby enabling the existing knob to be added after insertion.
A solderless connection for fast and secure mounting on the panel was also desirable. Here the options included an IDC connector that was wire-attached to the potentiometer that could be easily pressed onto IDC pins already soldered into the PCB. This methodology avoided the need for a costly and time-consuming secondary hand-soldering operation.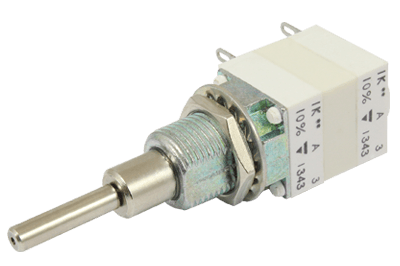 P11 Customization Options
The customized P11 potentiometer that was designed and implemented for the customer was a perfect solution for their application. It avoided the need for a costly redesign and a secondary manufacturing operation that the standard connection pins would require. This significantly reduced the potential time that would be wasted, and the potential brand value lost by implementing a new look and feel on the control panel.
Facing a similar design challenge? Get in touch with us.
Please fill out the form and submit to get started.