Power ICs - microBUCK® - Voltage Regulator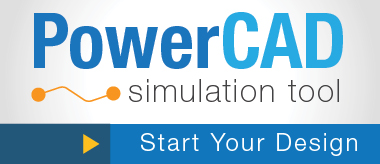 microBUCK: Scalability + Ease of Use + High Efficiency
Highly integrated microBUCK POL solutions deliver high efficiency while reducing costs
Each family offers a large portfolio of high density parts with common pinouts, allowing designers to scale for the best combination of cost and performance
Our PowerCAD simulation tool allows users to select the appropriate microBUCK regulator and generate a full circuit schematic

For performance optimization and comparison purposes, the schematic can then be edited as required.
Once the basic circuit is created, the user can perform DC, transient, and start-up simulations with visibility of all the circuit node waveforms.
Following these steps, the PowerCAD 2.0 simulation tool generates a bill of materials (BOM) available for online ordering.
Showing 1 to 31 of 31 entries
Click the buttons to sort the table between ascending, descending, and off. Filter by click and drag or ctrl-click to select multiple items.
Part Number

▲

▼

Description

▲▼

▲▼

▲▼

▲▼

▲▼

Continuous Output Current

(A)

▲▼

▲▼

▲▼

▲▼

Internal Bias Regulator

▲▼

▲▼

Enable (Y/N)

▲▼

▲▼

Over Current Protection (Y/N)

▲▼

Protection

▲▼

Light Load Mode

▲▼

▲▼

Package

▲▼

▲▼

24A,3V to 24V in,up to 1MHz,Synch. Buck Regulator

3

24

0.6

20

24

300

1000

Y

Y

Internal

Y

Y

Y

OVP, OCP, UVP/SCP, OTP, UVLO

Selectable Powersave/Ultrasonic

97

PowerPak MLP 44-24L

4.0 x 4.0 x 0.75

12 A, 4.5 V to 28 V input, 300 kHz, 500 kHz, 750 kHz, 1 MHz, synchronous buck regulator with ultrasonic mode and internal 5 V bias

4.5

28

0.6

0.9 x VIN

12

300

1000

Yes

Yes

Internal

Yes

Yes

Yes

OVP, OCP, UVP/SCP, OTP, UVLO

Selectable ultrasonic

97

PowerPAK MLP44-24L

4 x 4 x 0.75

12 A, 4.5 V to 28 V input, 300 kHz, 500 kHz, 750 kHz, 1 MHz, synchronous buck regulator with power save mode and internal 5 V bias

4.5

28

0.6

0.9 x VIN

12

300

1000

Yes

Yes

Internal

Yes

Yes

Yes

OVP, OCP, UVP/SCP, OTP, UVLO

Selectable powersave

97

PowerPAK MLP44-24L

4 x 4 x 0.75

12 A, 3 V to 28 V input, 300 kHz, 500 kHz, 750 kHz, 1 MHz, synchronous buck regulator with ultrasonic mode, requires external 5 V bias

3

28

0.6

0.9 x VIN

12

300

1000

Yes

No

Internal

Yes

Yes

Yes

OVP, OCP, UVP/SCP, OTP, UVLO

Selectable ultrasonic

97

PowerPAK MLP44-24L

4 x 4 x 0.75

12 A, 3 V to 28 V input, 300 kHz, 500 kHz, 750 kHz, 1 MHz, synchronous buck regulator with power save mode, requires external 5 V bias

3

28

0.6

0.9 x VIN

12

300

1000

Yes

No

Internal

Yes

Yes

Yes

OVP, OCP, UVP/SCP, OTP, UVLO

Selectable powersave

97

PowerPAK MLP44-24L

4 x 4 x 0.75

8 A, 4.5 V to 28 V input, 300 kHz, 500 kHz, 750 kHz, 1 MHz, synchronous buck regulator with ultrasonic mode and internal 5 V bias

4.5

28

0.6

0.9 x VIN

8

300

1000

Yes

Yes

Internal

Yes

Yes

Yes

OVP, OCP, UVP/SCP, OTP, UVLO

Selectable ultrasonic

97

PowerPAK MLP44-24L

4 x 4 x 0.75

8 A, 4.5 V to 28 V input, 300 kHz, 500 kHz, 750 kHz, 1 MHz, synchronous buck regulator with power save mode and internal 5 V bias

4.5

28

0.6

0.9 x VIN

8

300

1000

Yes

Yes

Internal

Yes

Yes

Yes

OVP, OCP, UVP/SCP, OTP, UVLO

Selectable powersave

97

PowerPAK MLP44-24L

4 x 4 x 0.75

8 A, 3 V to 28 V input, 300 kHz, 500 kHz, 750 kHz, 1 MHz, synchronous buck regulator with ultrasonic mode, requires external 5 V bias

3

28

0.6

0.9 x VIN

8

300

1000

Yes

No

Internal

Yes

Yes

Yes

OVP, OCP, UVP/SCP, OTP, UVLO

Selectable ultrasonic

97

PowerPAK MLP44-24L

4 x 4 x 0.75

8 A, 3 V to 28 V input, 300 kHz, 500 kHz, 750 kHz, 1 MHz, synchronous buck regulator with power save mode, requires external 5 V bias

3

28

0.6

0.9 x VIN

8

300

1000

Yes

No

Internal

Yes

Yes

Yes

OVP, OCP, UVP/SCP, OTP, UVLO

Selectable powersave

97

PowerPAK MLP44-24L

4 x 4 x 0.75

6 A, 4.5 V to 45 V input, 100 kHz to 2 MHz, synchronous buck regulator

4.5

45

0.8

0.92 x VIN

6

100

2000

Yes

Yes

External

Yes

Yes

Yes

OVP, OCP, UVP/SCP, OTP, UVLO

Selectable powersave / ultrasonic

98

PowerPAK MLP55-27L

5 x 5 x 0.75

4.5 V to 20 V input 40 A microBUCK DC/DC converter with PMBus

4.5

20

0.3

12

40

300

1500

yes

yes

internal

yes

yes

yes

OVP, OCP, UVP/SCP, OTP, UVLO

yes

96

PowerPAK MLP34-57

5.0 x 7.0 x 0.75

4.5 V to 20 V input 25 A microBUCK DC/DC converter with PMBus

4.5

20

0.3

12

25

300

1500

yes

yes

internal

yes

yes

yes

OVP, OCP, UVP/SCP, OTP, UVLO

yes

96

PowerPAK MLP34-57

5.0 x 7.0 x 0.75

4.5 V to 20 V input 15 A microBUCK DC/DC converter with PMBus

4.5

20

0.3

12

15

300

1500

yes

yes

internal

yes

yes

yes

OVP, OCP, UVP/SCP, OTP, UVLO

yes

96

PowerPAK MLP34-57

5.0 x 7.0 x 0.75

4.5 V to 20 V input 12 A microBUCK DC/DC converter with PMBus

4.5

20

0.3

12

12

300

1500

Yes

Yes

Internal

Yes

Yes

Yes

OVP, OCP, UVP/SCP, OTP, UVLO

Yes

98

PowerPAK MLP29-55

5.0 x 5.0 x 0.75

10 A, 4.5 V to 60 V input, 100 kHz to 2 MHz, synchronous buck regulator

4.5

60

0.8

0.92 x VIN

10

100

2000

Yes

Yes

External

Yes

Yes

Yes

OVP, OCP, UVP/SCP, OTP, UVLO

Selectable powersave / ultrasonic

98

PowerPAK MLP55-27L

5 x 5 x 0.75

6 A, 4.5 V to 60 V input, 100 kHz to 2 MHz, synchronous buck regulator

4.5

60

0.8

0.92 x VIN

6

100

2000

Yes

Yes

External

Yes

Yes

Yes

OVP, OCP, UVP/SCP, OTP, UVLO

Selectable powersave / ultrasonic

98

PowerPAK MLP55-27L

5 x 5 x 0.75

4 A, 4.5 V to 60 V input, 100 kHz to 2 MHz, synchronous buck regulator

4.5

60

0.8

0.92 x VIN

4

100

2000

Yes

Yes

External

Yes

Yes

Yes

OVP, OCP, UVP/SCP, OTP, UVLO

Selectable powersave / ultrasonic

98

PowerPAK MLP55-27L

5 x 5 x 0.75

2 A, 4.5 V to 60 V input, 100 kHz to 2 MHz, synchronous buck regulator

4.5

60

0.8

0.92 x VIN

2

100

2000

Yes

Yes

External

Yes

Yes

Yes

OVP, OCP, UVP/SCP, OTP, UVLO

Selectable powersave / ultrasonic

98

PowerPAK MLP55-27L

5 x 5 x 0.75

10 A, 4.5 V to 60 V input,100 kHz to 2 MHz,synchronous microBUCKregulator

4.5

60

0.8

15

10

100

2000

Yes

Yes

Internal

Yes

Yes

Yes

OVP, OCP, UVP/SCP, OTP, UVLO

Selectable powersave

97

PowerPAK MLP55-27L

5 x 5 x 0.75

6 A, 4.5 V to 60 V input, 100 kHz to 2 MHz, synchronous microBUCK regulator

4.5

60

0.8

15

6

100

2000

Yes

Yes

Internal

Yes

Yes

Yes

OVP, OCP, UVP/SCP, OTP, UVLO

Selectable powersave

98

PowerPAK MLP55-27L

5 x 5 x 0.75

4 A, 4.5 V to 60 V input, 100 kHz to 2 MHz, synchronous microBUCK regulator

4.5

60

0.8

15

4

100

2000

Yes

Yes

Internal

Yes

Yes

Yes

OVP, OCP, UVP/SCP, OTP, UVLO

Selectable powersave

98

PowerPAK MLP55-27L

5 x 5 x 0.75

2 A, 4.5 V to 60 V input, 100 kHz to 2 MHz, synchronous microBUCK regulator

4.5

60

0.8

15

2

100

2000

Yes

Yes

Internal

Yes

Yes

Yes

OVP, OCP, UVP/SCP, OTP, UVLO

Selectable powersave

98

PowerPAK MLP55-27L

5 x 5 x 0.75

12 A, 4.5 V to 55 V input, 100 kHz to 2 MHz, synchronous microBUCK regulator

4.5

55

0.8

0.92 x VIN

12

100

2000

Yes

Yes

External

Yes

Yes

Yes

OVP, OCP, UVP/SCP, OTP, UVLO

Selectable powersave / ultrasonic

98

PowerPAK MLP55-27L

5 x 5 x 0.75

8 A, 4.5 V to 55 V input, 100 kHz to 2 MHz, synchronous microBUCK regulator

4.5

55

0.8

0.92 x VIN

8

100

2000

Yes

Yes

External

Yes

Yes

Yes

OVP, OCP, UVP/SCP, OTP, UVLO

Selectable powersave / ultrasonic

98

PowerPAK MLP55-27L

5 x 5 x 0.75

5 A, 4.5 V to 55 V input, 100 kHz to 2 MHz, synchronous microBUCK regulator

4.5

55

0.8

0.92 x VIN

5

100

2000

Yes

Yes

External

Yes

Yes

Yes

OVP, OCP, UVP/SCP, OTP, UVLO

Selectable powersave / ultrasonic

98

PowerPAK MLP55-27L

5 x 5 x 0.75

3 A, 4.5 V to 55 V input, 100 kHz to 2 MHz, synchronous microBUCK regulator

4.5

55

0.8

0.92 x VIN

3

100

2000

Yes

Yes

External

Yes

Yes

Yes

OVP, OCP, UVP/SCP, OTP, UVLO

Selectable powersave / ultrasonic

98

PowerPAK MLP55-27L

5 x 5 x 0.75

12 A, 4.5 V to 55 V input,100 kHz to 2 MHz,synchronous microBUCKregulator

4.5

55

0.8

15

12

100

2000

Yes

Yes

Internal

Yes

Yes

Yes

OVP, OCP, UVP/SCP, OTP, UVLO

Power save

97

PowerPAK MLP55-27L

5 x 5 x 0.75

8 A, 4.5 V to 55 V input, 100 kHz to 2 MHz, synchronous microBUCK regulator

4.5

55

0.8

15

8

100

2000

Yes

Yes

Internal

Yes

Yes

Yes

OVP, OCP, UVP/SCP, OTP, UVLO

Power save

98

PowerPAK MLP55-27L

5 x 5 x 0.75

5 A, 4.5 V to 55 V input, 100 kHz to 2 MHz, synchronous microBUCK regulator

4.5

55

0.8

15

5

100

2000

Yes

Yes

Internal

Yes

Yes

Yes

OVP, OCP, UVP/SCP, OTP, UVLO

Power save

98

PowerPAK MLP55-27L

5 x 5 x 0.75

3 A, 4.5 V to 55 V input, 100 kHz to 2 MHz, synchronous microBUCK regulator

4.5

55

0.8

15

3

100

2000

Yes

Yes

Internal

Yes

Yes

Yes

OVP, OCP, UVP/SCP, OTP, UVLO

Power save

98

PowerPAK MLP55-27L

5 x 5 x 0.75

4 A, 4.5 V to 15 V input, 1.5 MHz synchronous buck regulator

4.5

15

0.6

5.5

4

200

1500

Yes

Yes

External

Yes

Yes

Fixed

OVP, OCP, OTP, SCP, UVLO

Powersave

95

QFN16-33G

3.0 x 3.0 x 0.8