Power ICs - microBUCK® - Voltage Regulator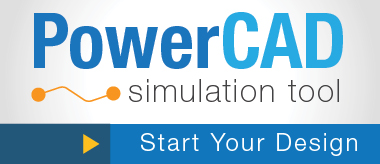 microBUCK® integrated voltage regulators (buck regulators) leverage Vishay's unique combination of discrete MOSFET design, IC expertise, and packaging capability to provide cost-effective, high-performance integrated solutions that deliver a significant reduction in board space requirements.
This benefits the designer by giving more space for critical system functionality. Typical applications include notebook, desktop, and server computers, digital HDTV, digital consumer applications, printers, DSL, and STB applications, embedded applications and point of load power supplies.
Showing 1 to 29 of 29 entries
Click the buttons to sort the table between ascending, descending, and off. Filter by click and drag or ctrl-click to select multiple items.
Part Number

▲

▼

Description

▲▼

▲▼

▲▼

▲▼

▲▼

Continuous Output Current

(A)

▲▼

▲▼

▲▼

▲▼

Internal Bias Regulator

▲▼

▲▼

Enable (Y/N)

▲▼

▲▼

Over Current Protection (Y/N)

▲▼

Protection

▲▼

Light Load Mode

▲▼

▲▼

Package

▲▼

▲▼

24A,3V to 24V in,up to 1MHz,Synch. Buck Regulator

3

24

0.6

20

24

300

1000

Y

Y

Internal

Y

Y

Y

OVP, OCP, UVP/SCP, OTP, UVLO

Selectable Powersave/Ultrasonic

97

PowerPak MLP 44-24L

4.0 x 4.0 x 0.75

12 A, 4.5 V to 28 V input, 300 kHz, 500 kHz, 750 kHz, 1 MHz, synchronous buck regulator with ultrasonic mode and internal 5 V bias

4.5

28

0.6

0.9 x VIN

12

300

1000

Yes

Yes

Internal

Yes

Yes

Yes

OVP, OCP, UVP/SCP, OTP, UVLO

Selectable ultrasonic

97

PowerPAK MLP44-24L

4 x 4 x 0.75

12 A, 4.5 V to 28 V input, 300 kHz, 500 kHz, 750 kHz, 1 MHz, synchronous buck regulator with power save mode and internal 5 V bias

4.5

28

0.6

0.9 x VIN

12

300

1000

Yes

Yes

Internal

Yes

Yes

Yes

OVP, OCP, UVP/SCP, OTP, UVLO

Selectable powersave

97

PowerPAK MLP44-24L

4 x 4 x 0.75

12 A, 3 V to 28 V input, 300 kHz, 500 kHz, 750 kHz, 1 MHz, synchronous buck regulator with ultrasonic mode, requires external 5 V bias

3

28

0.6

0.9 x VIN

12

300

1000

Yes

No

Internal

Yes

Yes

Yes

OVP, OCP, UVP/SCP, OTP, UVLO

Selectable ultrasonic

97

PowerPAK MLP44-24L

4 x 4 x 0.75

12 A, 3 V to 28 V input, 300 kHz, 500 kHz, 750 kHz, 1 MHz, synchronous buck regulator with power save mode, requires external 5 V bias

3

28

0.6

0.9 x VIN

12

300

1000

Yes

No

Internal

Yes

Yes

Yes

OVP, OCP, UVP/SCP, OTP, UVLO

Selectable powersave

97

PowerPAK MLP44-24L

4 x 4 x 0.75

8 A, 4.5 V to 28 V input, 300 kHz, 500 kHz, 750 kHz, 1 MHz, synchronous buck regulator with ultrasonic mode and internal 5 V bias

4.5

28

0.6

0.9 x VIN

8

300

1000

Yes

Yes

Internal

Yes

Yes

Yes

OVP, OCP, UVP/SCP, OTP, UVLO

Selectable ultrasonic

97

PowerPAK MLP44-24L

4 x 4 x 0.75

8 A, 4.5 V to 28 V input, 300 kHz, 500 kHz, 750 kHz, 1 MHz, synchronous buck regulator with power save mode and internal 5 V bias

4.5

28

0.6

0.9 x VIN

8

300

1000

Yes

Yes

Internal

Yes

Yes

Yes

OVP, OCP, UVP/SCP, OTP, UVLO

Selectable powersave

97

PowerPAK MLP44-24L

4 x 4 x 0.75

8 A, 3 V to 28 V input, 300 kHz, 500 kHz, 750 kHz, 1 MHz, synchronous buck regulator with ultrasonic mode, requires external 5 V bias

3

28

0.6

0.9 x VIN

8

300

1000

Yes

No

Internal

Yes

Yes

Yes

OVP, OCP, UVP/SCP, OTP, UVLO

Selectable ultrasonic

97

PowerPAK MLP44-24L

4 x 4 x 0.75

8 A, 3 V to 28 V input, 300 kHz, 500 kHz, 750 kHz, 1 MHz, synchronous buck regulator with power save mode, requires external 5 V bias

3

28

0.6

0.9 x VIN

8

300

1000

Yes

No

Internal

Yes

Yes

Yes

OVP, OCP, UVP/SCP, OTP, UVLO

Selectable powersave

97

PowerPAK MLP44-24L

4 x 4 x 0.75

4.5 V to 20 V input 40 A microBUCK DC/DC converter with PMBus

4.5

20

0.3

12

40

300

1500

yes

yes

internal

yes

yes

yes

OVP, OCP, UVP/SCP, OTP, UVLO

yes

96

PowerPAK MLP34-57

5.0 x 7.0 x 0.75

4.5 V to 20 V input 25 A microBUCK DC/DC converter with PMBus

4.5

20

0.3

12

25

300

1500

yes

yes

internal

yes

yes

yes

OVP, OCP, UVP/SCP, OTP, UVLO

yes

96

PowerPAK MLP34-57

5.0 x 7.0 x 0.75

4.5 V to 20 V input 15 A microBUCK DC/DC converter with PMBus

4.5

20

0.3

12

15

300

1500

yes

yes

internal

yes

yes

yes

OVP, OCP, UVP/SCP, OTP, UVLO

yes

96

PowerPAK MLP34-57

5.0 x 7.0 x 0.75

10 A, 4.5 V to 60 V input, 100 kHz to 2 MHz, synchronous buck regulator

4.5

60

0.8

0.92 x VIN

10

100

2000

Yes

Yes

External

Yes

Yes

Yes

OVP, OCP, UVP/SCP, OTP, UVLO

Selectable powersave / ultrasonic

98

PowerPAK MLP55-27L

5 x 5 x 0.75

6 A, 4.5 V to 60 V input, 100 kHz to 2 MHz, synchronous buck regulator

4.5

60

0.8

0.92 x VIN

6

100

2000

Yes

Yes

External

Yes

Yes

Yes

OVP, OCP, UVP/SCP, OTP, UVLO

Selectable powersave / ultrasonic

98

PowerPAK MLP55-27L

5 x 5 x 0.75

4 A, 4.5 V to 60 V input, 100 kHz to 2 MHz, synchronous buck regulator

4.5

60

0.8

0.92 x VIN

4

100

2000

Yes

Yes

External

Yes

Yes

Yes

OVP, OCP, UVP/SCP, OTP, UVLO

Selectable powersave / ultrasonic

98

PowerPAK MLP55-27L

5 x 5 x 0.75

2 A, 4.5 V to 60 V input, 100 kHz to 2 MHz, synchronous buck regulator

4.5

60

0.8

0.92 x VIN

2

100

2000

Yes

Yes

External

Yes

Yes

Yes

OVP, OCP, UVP/SCP, OTP, UVLO

Selectable powersave / ultrasonic

98

PowerPAK MLP55-27L

5 x 5 x 0.75

10 A, 4.5 V to 60 V input,100 kHz to 2 MHz,synchronous microBUCKregulator

4.5

60

0.8

15

10

100

2000

Yes

Yes

Internal

Yes

Yes

Yes

OVP, OCP, UVP/SCP, OTP, UVLO

Selectable powersave

97

PowerPAK MLP55-27L

5 x 5 x 0.75

6 A, 4.5 V to 60 V input, 100 kHz to 2 MHz, synchronous microBUCK regulator

4.5

60

0.8

15

6

100

2000

Yes

Yes

Internal

Yes

Yes

Yes

OVP, OCP, UVP/SCP, OTP, UVLO

Selectable powersave

98

PowerPAK MLP55-27L

5 x 5 x 0.75

4 A, 4.5 V to 60 V input, 100 kHz to 2 MHz, synchronous microBUCK regulator

4.5

60

0.8

15

4

100

2000

Yes

Yes

Internal

Yes

Yes

Yes

OVP, OCP, UVP/SCP, OTP, UVLO

Selectable powersave

98

PowerPAK MLP55-27L

5 x 5 x 0.75

2 A, 4.5 V to 60 V input, 100 kHz to 2 MHz, synchronous microBUCK regulator

4.5

60

0.8

15

2

100

2000

Yes

Yes

Internal

Yes

Yes

Yes

OVP, OCP, UVP/SCP, OTP, UVLO

Selectable powersave

98

PowerPAK MLP55-27L

5 x 5 x 0.75

12 A, 4.5 V to 55 V input, 100 kHz to 2 MHz, synchronous microBUCK regulator

4.5

55

0.8

0.92 x VIN

12

100

2000

Yes

Yes

External

Yes

Yes

Yes

OVP, OCP, UVP/SCP, OTP, UVLO

Selectable powersave / ultrasonic

98

PowerPAK MLP55-27L

5 x 5 x 0.75

8 A, 4.5 V to 55 V input, 100 kHz to 2 MHz, synchronous microBUCK regulator

4.5

55

0.8

0.92 x VIN

8

100

2000

Yes

Yes

External

Yes

Yes

Yes

OVP, OCP, UVP/SCP, OTP, UVLO

Selectable powersave / ultrasonic

98

PowerPAK MLP55-27L

5 x 5 x 0.75

5 A, 4.5 V to 55 V input, 100 kHz to 2 MHz, synchronous microBUCK regulator

4.5

55

0.8

0.92 x VIN

5

100

2000

Yes

Yes

External

Yes

Yes

Yes

OVP, OCP, UVP/SCP, OTP, UVLO

Selectable powersave / ultrasonic

98

PowerPAK MLP55-27L

5 x 5 x 0.75

3 A, 4.5 V to 55 V input, 100 kHz to 2 MHz, synchronous microBUCK regulator

4.5

55

0.8

0.92 x VIN

3

100

2000

Yes

Yes

External

Yes

Yes

Yes

OVP, OCP, UVP/SCP, OTP, UVLO

Selectable powersave / ultrasonic

98

PowerPAK MLP55-27L

5 x 5 x 0.75

12 A, 4.5 V to 55 V input,100 kHz to 2 MHz,synchronous microBUCKregulator

4.5

55

0.8

15

12

100

2000

Yes

Yes

Internal

Yes

Yes

Yes

OVP, OCP, UVP/SCP, OTP, UVLO

Power save

97

PowerPAK MLP55-27L

5 x 5 x 0.75

8 A, 4.5 V to 55 V input, 100 kHz to 2 MHz, synchronous microBUCK regulator

4.5

55

0.8

15

8

100

2000

Yes

Yes

Internal

Yes

Yes

Yes

OVP, OCP, UVP/SCP, OTP, UVLO

Power save

98

PowerPAK MLP55-27L

5 x 5 x 0.75

5 A, 4.5 V to 55 V input, 100 kHz to 2 MHz, synchronous microBUCK regulator

4.5

55

0.8

15

5

100

2000

Yes

Yes

Internal

Yes

Yes

Yes

OVP, OCP, UVP/SCP, OTP, UVLO

Power save

98

PowerPAK MLP55-27L

5 x 5 x 0.75

3 A, 4.5 V to 55 V input, 100 kHz to 2 MHz, synchronous microBUCK regulator

4.5

55

0.8

15

3

100

2000

Yes

Yes

Internal

Yes

Yes

Yes

OVP, OCP, UVP/SCP, OTP, UVLO

Power save

98

PowerPAK MLP55-27L

5 x 5 x 0.75

4 A, 4.5 V to 15 V input, 1.5 MHz synchronous buck regulator

4.5

15

0.6

5.5

4

200

1500

Yes

Yes

External

Yes

Yes

Fixed

OVP, OCP, OTP, SCP, UVLO

Powersave

95

QFN16-33G

3.0 x 3.0 x 0.8