RGBW-IR-Sensoren VEML3328 und VEML3328SL von Vishay Intertechnology wurden mit dem 2020 AspenCore World Electronics Achievement Award ausgezeichnet
Gründe für die Auszeichnung in der Kategorie Sensoren sind die im Vergleich
zu bisherigen Lösungen bessere Linearität und höhere Empfindlichkeit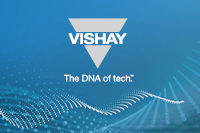 Malvern, Pennsylvania (USA)– 17 November 2020 – Vishay Intertechnology, Inc. (NYSE: VSH) gibt bekannt, dass seine RGBW-IR-Sensoren VEML3328 (Fenster nach oben) und VEML3328SL (Fenster zur Seite) mit dem 2020 AspenCore World Electronics Achievement Award in der Kategorie Sensoren ausgezeichnet wurden. Die für Anwendungen wie automatischer Weißabgleich und Farbstichkorrektur in Digitalkameras, automatische Anpassung der LCD-Hintergrundbeleuchtung und aktive Ãœberwachung der LED-Farbe für IoT sowie intelligente Beleuchtung vorgesehenen Sensoren bieten im Vergleich zu Vorgängerprodukten eine bessere Linearität und höhere Empfindlichkeit plus neue Funktionen wie z. B. einen Infrarot- (IR) Kanal.
Das von AspenCore, der weltgrößten Mediengruppe im Bereich Elektronik, ins Leben gerufene World Electronics Achievement Awards (WEAA) Programm ehrt Unternehmen und Personen, die außergewöhnliche Beiträge zu Innovationen und Entwicklungen in der globalen Elektronikindustrie geleistet haben. Welche Produkte die Auszeichnung erhalten sollen, entscheiden Ingenieure in aller Welt durch eine Online-Abstimmung.
Die neuen Sensoren VEML3328 und VEML3328SL, die in einem einzigen CMOS-Chip Photodioden, Verstärker sowie analoge und digitale Schaltkreise vereinen, sind für Rot, Grün, Blau, Weiß und IR-Licht empfindlich. Durch ihre Fähigkeit, Umgebungslicht zu erkennen und dessen Farbtemperatur zu bestimmen, sind die neuen Sensoren kompakte Lösungen für die Optimierung der Hintergrundbeleuchtung von Displays und Bildschirmen in Consumerprodukten und Notebook-Computern. Die Sensoren können außerdem dazu verwendet werden, zwischen Innenraumbeleuchtung und Tageslicht zu unterscheiden und die Bildschirmfarbe und -helligkeit automatisch an die jeweiligen Lichtbedingungen anzupassen.
Typische Anwendungen für die neuen Sensoren VEML3328 und VEML3328SL sind Digitalkameras, Fernsehgeräte und andere Consumerprodukte sowie industrielle Anwendungen unterschiedlichster Art. Alle diese Anwendungen profitieren von der hervorragenden Temperaturkompensation der Sensoren, die auch unter veränderlichen Temperaturbedingungen stabile Ausgangsdaten gewährleistet. Die in die Sensoren integrierte Umgebungslicht-Photodiode ist extrem lichtempfindlich und ermöglicht dadurch den Einsatz in Designs mit getönter Linse. Eine programmierbare Analog-Verstärkungsfaktor- und Integrationszeit-Funktion sowie der zusätzliche IR-Kanal ermöglichen es Entwicklern, die Eigenschaften der Sensoren VEML3328 und VEML3328SL optimal auf die Anforderungen der jeweiligen Anwendung abzustimmen.
Die Auszeichnungen wurden im Rahmen des Global High-Tech Executive Forum verliehen, das am 5. November in Shenzhen, China, stattfand. Zhiwei Huang, Sales Account Manager (Market Development for Optoelectronics) von Vishay China nahm die Auszeichnung im Namen von Vishay entgegen.
Die vollständige Liste aller ausgezeichneten Produkte finden Sie unter www.esmchina.com/news/7159.html.
Vishay bietet eines der weltweit größten Angebote an diskreten Halbleiterbauelementen und passiven elektronischen Bauteilen, die innovative Designs ermöglichen und in den unterschiedlichsten Märkten Verwendung finden – von Automobilindustrie über Computer, Consumer-Produkte und Telekommunikation bis hin zu Luft-/Raumfahrt-/Wehrtechnik und Medizintechnik. Mit seinem weltweiten Kundenstamm ist Vishay The DNA of tech.® Vishay Intertechnology, Inc. zählt zu den Fortune-1000-Unternehmen und ist an der New Yorker Börse (NYSE) unter dem Tickersymbol VSH notiert. Weitere Informationen über Vishay finden Sie unter www.vishay.com.



https://twitter.com/vishayindust


https://www.facebook.com/VishayIntertechnology
###
The DNA of tech™ ist eine Marke der Firma Vishay Intertechnology.