Neue Hochstrominduktivität von Vishay Intertechnology bietet verbessertes Sättigungsverhalten und erhöhte Temperaturstabilität
IHVR-4024KE-51 – die stehend zu montierende Leistungsinduktivität
im kompakten 4024-Gehäuse bietet im Vergleich zu typischen Wettbewerbsprodukten einen um 50% geringeren DCR und bean­sprucht weniger Leiterplattenfläche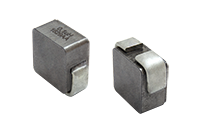 Malvern, Pennsylvania (USA) –26. Oktober 2020 – Vishay Intertechnology, Inc. (NYSE: VSH) präsentiert eine neue Hochstrominduktivität, die im Vergleich zu typischen Wettbewerbsprodukten einen um 50% geringeren DCR aufweist und dadurch den Wirkungsgrad von Hochfrequenz-Gleichspannungswandlern steigert. Die neue Leistungsinduktivität IHVR-4024KE-51 von Vishay Dale, die auf den gleichen Materialien und dem gleichen Design wie die Induktivitäten der Serie IHLP basiert, zeichnet sich außerdem durch ein hervorragendes Sättigungsverhalten und exzellente Temperaturstabilität aus. Das Bauteil im kompakten, nur 10 mm x 6 mm x 10 mm großen 4024-Gehäuse erlaubt eine hohe Stromdichte und beansprucht dank der stehenden Montage weniger Leiterplattenfläche.
Die neue Induktivität ist für Betriebstemperaturen bis +155°C ausgelegt und wurde für Energiespeicheranwendungen in Gleichspannungswandlern mit Schaltfrequenzen bis 5 MHz optimiert. Darüber hinaus ermöglicht sie in Hochstrom-Filteranwendungen eine hervorragende Störsignalunterdrückung im Frequenzbereich bis zu ihrer Serienresonanzfrequenz (SRF). Typische Anwendungen für die Induktivität IHVR-4024KE-51 sind Server und Desktop-PCs, Hochstrom-Point-of-Load- (POL) Wandler, Mehrphasen-Hochstromnetzteile, batteriebetriebene Geräte, verteilte Stromversorgungssysteme und FPGAs.
Die neue, RoHS-konforme Induktivität besitzt ein 100% bleifreies, geschirmtes Gehäuse aus Kompositmaterial, welches das akustische Störgeräusch auf ein Minimum reduziert, und zeichnet sich durch hohe Temperaturwechsel-, Feuchtigkeits- und Stoßfestigkeit aus; zudem verträgt sie hohe Spitzenströme, ohne in die Sättigung zu geraten.
Die wichtigsten Spezifikationen:
| | |
| --- | --- |
| Teilenummer | IHVR-4024KE-51 |
| Gehäusegröße | 4024 |
| Induktivität @ 100 kHz (μH) | 0,12 |
| DCR @ 25°C (mΩ) | 0,24 |
| Typ. Sättigungsstrom (A) | 911; 1302 |
| Typ- Eigenresonanzfrequenz (SRF) (MHz) | 112 |
1 Die Gleichstromstärke (A), bei der L0 um etwa 20% abnimmt
2 Die Gleichstromstärke (A), bei der L0 um etwa 30% abnimmt
Die neue Induktivität IHVR-4024KE-51 ist ab sofort in Muster- und Produktionsstückzahlen lieferbar; die Lieferzeit für größere Bestellmengen beträgt zwölf Wochen.
Vishay bietet eines der weltweit größten Angebote an diskreten Halbleiterbauelementen und passiven elektronischen Bauteilen, die innovative Designs ermöglichen und in den unterschiedlichsten Märkten Verwendung finden – von Automobilindustrie über Computer, Consumer-Produkte und Telekommunikation bis hin zu Luft-/Raumfahrt-/Wehrtechnik und Medizintechnik. Mit seinem weltweiten Kundenstamm ist Vishay The DNA of tech.® Vishay Intertechnology, Inc. zählt zu den Fortune-1000-Unternehmen und ist an der New Yorker Börse (NYSE) unter dem Tickersymbol VSH notiert. Weitere Informationen über Vishay finden Sie unter www.vishay.com.



https://twitter.com/vishayindust


https://www.facebook.com/VishayIntertechnology
###
The DNA of tech™ is a trademark of Vishay Intertechnology.