Vishay Intertechnology präsentiert eine neue bidirektionale Dual-Line-ESD-Schutzdiode im platzsparenden DFN1110-3A-Gehäuse mit benetzbaren Flanken
Das in Ausführungen für kommerzielle und Automobilanwendungen verfügbare Bauteil hat eine ultrageringe Kapazität von nur 0,37 pF (typ.)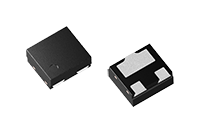 Malvern, Pennsylvania (USA) –19. April 2021 – Vishay Intertechnology, Inc. NYSE) präsentiert eine neue, bidirektional-symmetrische (BiSy) Dual-Line-ESD-Schutzdiode im kompakten DFN1110-3A-Gehäuse mit benetzbaren Flanken. Die neue Schutzdiode VBUS05M2-HT5 von Vishay Semiconductors beansprucht weniger Platz als vergleichbare Typen im SOT-Gehäuse, zeichnet sich durch ultrageringe Kapazität und ebenso geringen Leckstrom aus und schützt zwei Hochgeschwindigkeitsdatenleitungen zuverlässig vor Ãœberspannungsspitzen.
Mit einer Lastkapazität von nur 0,37 pF (typ.) ist die neue ESD-Schutzdiode bestens geeignet zum Schutz von Schnittstellen wie USB 2.0, USB 3.0 und HDMI in kommerziellen Anwendungen. Zudem ist die ESD-Schutzdiode VBUS05M2-HT5 auch in einer AEC-Q101-qualifizierten Version für Automobil-Anwendungen verfügbar. Die neue Schutzdiode hat bei ihrer Arbeitsspannung von ±5,5 V einen maximalen Leckstrom von <0,1 µA. Die Durchbruchspannung beträgt 8,5 V (typ.) bei 1 mA und die maximale Klemmspannung 18 V
bei 3,4 A.
Die ESD-Schutzdiode VBUS05M2-HT5 schützt zwei Datenleitungen vor Luft- und Kontaktentladung bis ±20 kVnach IEC 61000‑4‑2. Das Bauteil erfüllt die Anforderungen
des J-STD-020 MSL 1 (Moisture Sensitivity Level) und der Entflammbarkeitsklasse UL 94 V-0. Die neue ESD-Schutzdiode ist RoHS-konform, halogenfrei, Vishay Green und unterstützt automatisierte Sichtkontrolle (AOI) für automobile Systeme.  
Die wichtigsten Spezifikationen:
| | | | | |
| --- | --- | --- | --- | --- |
| Bestellnummer | Gehäuse | Typ | VRWM | Kapazität |
| VBUS05M2-HT5-G3-08 | DFN1110-3A | Kommerziell | ± 5,5 V | 0,45 pF |
| VBUS05M2-HT5HG3-08 | DFN1110-3A | AEC-Q101 | ± 5,5 V | 0,45 pF |
Die ESD-Schutzdiode VBUS05M2-HT5 ist ab sofort in Muster- und Produktionsstückzahlen lieferbar; die Lieferzeit für Produktionsstückzahlen beträgt zwölf Wochen.
Vishay bietet eines der weltweit größten Angebote an diskreten Halbleiterbauelementen und passiven elektronischen Bauteilen, die innovative Designs ermöglichen und in den unterschiedlichsten Märkten Verwendung finden – von Automobilindustrie über Computer, Consumer-Produkte und Telekommunikation bis hin zu Luft-/Raumfahrt-/Wehrtechnik und Medizintechnik. Mit seinem weltweiten Kundenstamm ist Vishay The DNA of tech.® Vishay Intertechnology, Inc. zählt zu den Fortune-1000-Unternehmen und ist an der New Yorker Börse (NYSE) unter dem Tickersymbol VSH notiert. Weitere Informationen über Vishay finden Sie unter www.vishay.com.



https://twitter.com/vishayindust


https://www.facebook.com/VishayIntertechnology
###
The DNA of tech™ ist eine Marke der Firma Vishay Intertechnology.