Miniatur-Positionssensor RAME012 von Vishay Intertechnology als Finalist für den Elektra Award 2022 nominiert
Magnetischer Absolutwert-Drehgeber auf der Shortlist in der Kategorie "Passive and Elektromechanical Product of the year".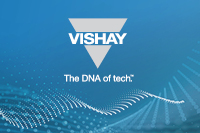 Malvern, Pennsylvania (USA) – 27. Oktober 2022 – Vishay Intertechnology, Inc. (NYSE: VSH) hat heute bekanntgegeben, dass der Miniatur-Positionssensor Vishay MCB RAME012 als Finalist für die Elektra Awards 2022 in der Kategorie "Passive and Electromechanical Product of the Year" ausgewählt wurde." Mit seinem kleinen Außendurchmesser von 12,7 mm liefert der magnetische Absolutwert-Drehgeber eine höhere Genauigkeit und Auflösung als Geräte von Mitbewerbern in derselben Größe und bietet gleichzeitig eine höhere Zuverlässigkeit und Haltbarkeit für raue Betriebsumgebungen.
Mit den von der Zeitschrift Electronics Weekly verliehenen Elektra Awards werden Einzelpersonen und Unternehmen für ihre herausragenden Leistungen, Innovationen und Beiträge zur globalen Elektronikindustrie ausgezeichnet. Die Gewinner werden in 16 Kategorien von einer unabhängigen Expertenjury ausgewählt. Die Finalisten in der Kategorie "Passive and Electromechanical Product of the Year" wurden auf Grundlage nachgewiesener technischer Fähigkeiten ausgewählt, die sie von Konkurrenzprodukten abheben.
Der RAME012 nutzt eine fortschrittliche berührungslose Technologie, um eine Genauigkeit von > 11 Bit und eine Auflösung von 14 Bit zu erreichen. Gleichzeitig ist er robust gegenüber externen Magnetfeldern, Luftverschmutzung, Vibrationen, mechanischen Stößen und Temperaturschwankungen. Die Gehäuseausführung des Positionssensors, sowie sein On-Axis-Design, der schlanke Durchmesser und das geringe Gewicht (< 11 g) machen ihn ideal für Anwendungen, bei denen wenig Platz zur Verfügung steht, aber dennoch Winkelstellungen mit hoher Genauigkeit erfasst werden müssen. Der Baustein ist in einer Single-Turn-Variante mit SSI-Ausgangssignal erhältlich. Auf Anfrage sind auch andere mechanische und elektrische Schnittstellen verfügbar.
Mit seinem SSI-Ausgang und seinem ausgezeichneten Leistungs-/Größenverhältnis ist der RAME012 ein perfekter Ersatz für Potentiometer in Raketenleitsystemen, kardanische Aufhängungen für optische Kugeln und Raketensuchgeräte, Positionierungssysteme für kleine industrielle Aktoren (Servoantriebe) sowie die mehrdimensionale mechanische Messung von Oberflächen mit 3D-Tastern. Dank des Plug-and-Play-Betriebs entfällt bei diesen Anwendungen die Notwendigkeit einer Kalibrierung.
Die Preisträger werden auf dem Elektra Awards Dinner bekannt gegeben, das am 30. November im Grosvenor House Hotel in London stattfindet.
Vishay bietet eines der weltweit größten Angebote an diskreten Halbleiterbauelementen und passiven elektronischen Bauteilen, die innovative Designs ermöglichen und in den unterschiedlichsten Märkten Verwendung finden – von Automobilindustrie über Computer, Consumer-Produkte und Telekommunikation bis hin zu Luft-/Raumfahrt-/Wehrtechnik und Medizintechnik. Mit seinem weltweiten Kundenstamm ist Vishay The DNA of tech.® Vishay Intertechnology, Inc. zählt zu den Fortune-1000-Unternehmen und ist an der New Yorker Börse (NYSE) unter dem Tickersymbol VSH notiert. Weitere Informationen über Vishay finden Sie unter www.vishay.com.



https://twitter.com/vishayindust


https://www.facebook.com/VishayIntertechnology
###
The DNA of tech™ ist eine Marke der Firma Vishay Intertechnology.