Vishay Intertechnology präsentiert auf der PCIM Europe 2022 seine neuesten Technologien für Leistungselektronik-Bauteile
Die vorgestellten Power-Management-Lösungen bereiten den Weg für Innovationen in E-Mobiliät-, Industrie-4.0-, 5G- und IoT-Anwendungen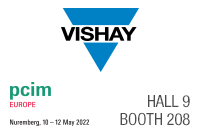 Malvern, Pennsylvania (USA) – 28. April 2022 – Vishay Intertechnology, Inc. (NYSE: VSH) gab heute sein Produktprogramm für die PCIM Europe 2022 bekannt – eine Fachmesse und Konferenz für Leistungselektronik, intelligente Antriebstechnik, erneuerbare Energien und Energiemanagement. Die Veranstaltung findet vom 10. bis 12. Mai auf der Messe Nürnberg statt, wo Vishay seine neuesten branchenführenden Technologien für passive Bauelemente, Dioden, MOSFETs und Leistungs-ICs vorstellen wird, die den Weg für Innovationen in den am schnellsten wachsenden Märkten von heute ebnen, darunter E-Mobilität, Industrie 4.0, 5G und IoT. Vishay wird in Halle 9, Stand 208, u. a. eine große Auswahl an Kondensatoren und Widerständen präsentieren, darunter Leistungselektronik-Kondensatoren für DC-Zwischenkreis-Anwendungen in Industrie-, Traktions- und Windturbinen-Umrichtern und anderen Anwendungen; Aluminiumkondensatoren für die Automobilindustrie, die Medizintechnik, alternative Energien und andere anspruchsvolle Anwendungen; robuste elektrische Double-Layer-Energiespeicher für Energy-Harvesting-Anwendungen und Notstromversorgungen; AEC-Q200-qualifizierte Folienkondensatoren für den wachsenden Elektrofahrzeug-Markt sowie Folienkondensatoren für extrem raue Umgebungsbedingungen in industriellen Anwendungen.
Das Widerstandsangebot umfasst u. a. Power Metal Strip®-, LTO- und LPS-Dickschicht-Leistungswiderstände und MELF-Typen, außerdem Präzisions-Dünnschichtwiderstände der TNPV-Serie mit maximalen Betriebsspannungen bis 1000 V sowie AEC-qualifizierte Power-Metal-Plate™-Strommesswiderstände in den Gehäusegrößen 2010 bis 2512. Weiterhin werden Drahtwiderstände ausgestellt, darunter direkt wassergekühlte und hybride Bauteile für Lade- und Entladeanwendungen.
Die ausgestellten MOSFETs bieten innovative Lösungen für Automobilanwendungen und die neuesten Energiewandler-Topologien. Vishay wird die Vorzüge seiner für anspruchsvolle Stromversorgungsanwendungen vorgesehenen TrenchFET®- und Superjunction-MOSFETs der E-Serie herausstellen. Darüber hinaus werden AEC-qualifizierte Gen-IV-TrenchFETs in neuen Gehäusebauformen mit Gullwing-Anschlüssen sowie der erste AEC-qualifizierte MOSFET der E-Serie präsentiert. Für DC/DC-Anwendungen, die ein höheres Maß an Bauteilintegration erfordern, stellt Vishay microBUCK®- und microBRICK®-DC/DC-Regler vor, darunter eine neue, PMBus-1.3-konforme microBUCK-Familie.
Darüber hinaus zeigt Vishay Dioden, die den Wirkungsgrad und die Leistungsdichte in Automobilanwendungen erhöhen, darunter AEC-Q101-qualifizierte 60-V-, 100-V- und 150 V-TMBS®-Gen 3-Gleichrichter der eSMP®-Serie und solche im TO-247AD 3L-Gehäuse; außerdem 600-V- und 1200-V FRED-Pt®-Gen-5-Ultrafast und Hyperfast-Dioden für Ladeanwendungen sowie 1200-V-FRED-Pt-Gen-7-Dioden für Hilfsfunktionen in Automobil- und Industrieanwendungen, dazu 650-V-Siliziumkarbid (SiC)-Schottky-Dioden mit MPS- (Merged-PiN-Schottky) Design für Industrie- und Telekommunikationsanwendungen. Weiterhin werden die weltweit ersten AEC-Q101-qualifizierten SMD-Überspannungsschutzbauteile (TVS, Transient Voltage Suppressors) der Serie XClampRTM mit extrem kleinen Klemmspannungen vorgestellt, dazu Kleinsignal-Schottky- und Schalt-Dioden im ultra-kompakten DFN1006-2A-Plastikgehäuse mit benetzbaren Flanken.
Auf Vishays Stand auf der PCIM gibht es außerdem diverse Referenzdesigns für Automobil- und Industrie-Anwendungen zu sehen, u. a. für 48-V- und 800-V-Batterieschutzschaltungen, für einen 48V/12V-DC/DC Wandler mit bis zu 3 kW Ausgangsleistung, einen intelligenten Batteriesensor für Hybrid-Elektrofahrzeuge und eine Energy-Harvesting-Anwendung, die dank des Vishays Energiespeicher-Kondensators ENYCAPTM in IoT-Knoten eine Batterie ersetzen kann.
Vishay bietet eines der weltweit größten Angebote an diskreten Halbleiterbauelementen und passiven elektronischen Bauteilen, die innovative Designs ermöglichen und in den unterschiedlichsten Märkten Verwendung finden – von Automobilindustrie über Computer, Consumer-Produkte und Telekommunikation bis hin zu Luft-/Raumfahrt-/Wehrtechnik und Medizintechnik. Mit seinem weltweiten Kundenstamm ist Vishay The DNA of tech.® Vishay Intertechnology, Inc. zählt zu den Fortune-1000-Unternehmen und ist an der New Yorker Börse (NYSE) unter dem Tickersymbol VSH notiert. Weitere Informationen über Vishay finden Sie unter www.vishay.com.



https://twitter.com/vishayindust


https://www.facebook.com/VishayIntertechnology
###
The DNA of tech.™ ist eine Marke der Firma Vishay Intertechnology. TrenchFET, microBUCK und microBRICK sind eingetragene Marken der Firma Siliconix Incorporated. ENYCAP, ThermaWick und XClampR sind Marken, und TMBS, FRED Pt und Power Metal Strip sind eingetragene Marken der Firma Vishay Intertechnology.