Vishay wurde mit dem TTI Supplier Excellence Award für Europa ausgezeichnet
Das Unternehmen behält weiterhin den "Platin"-Lieferantenstatus in der Region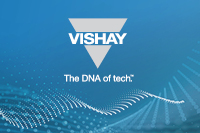 Malvern, Pennsylvania (USA) – 27. Juni 2022 – Vishay Intertechnology, Inc. (NYSE: VSH) gibt bekannt, dass das Unternehmen einen Supplier Excellence Award von TTI erhalten hat, der Vishays Beiträge zu TTIs Geschäftstätigkeit würdigt. Durch die Auszeichnung zählt Vishay zu den "Top-five"-Herstellern, die durch TTI in Europa vertreten sind. Durch die erneute Auszeichnung – für Europa zum elften Mal in Folge – behält Vishay weiterhin seinen "Platin"-Lieferantenstatus in der Region. Der "Platin"-Status ist die höchste von TTI vergebene Auszeichnung für Lieferanten; Voraussetzung dafür sind fünf ausgezeichnete Jahre in Folge.
TTI ist ein autorisierter, auf passive und elektromechanische Bauelemente, diskrete Halbleiter sowie Steckverbinder spezialisierter Distributor. Das Unternehmen ist weltweit für viele Hersteller aus der Industrie, Wehrtechnik, Luft-/Raumfahrt und Consumerelektronik-Branche der Distributor der Wahl. Vishay zählt zu den weltgrößten Herstellern von diskreten Halbleiterbauelementen und passiven elektronischen Bauteilen.
Das TTI Supplier Awards Programm bewertet die Qualität von Lieferanten anhand folgender Kriterien: pünktliche Lieferung, Auspackqualität, Kundenzufriedenheit mit der Produktqualität, Qualität der Auftragsabwicklung, Vertriebsunterstützung, Geschäftsbetrieb und Geschäftsmodell. Die Gewinner werden nach einem Punktesystem ermittelt.
"Diese Auszeichnung ist eine Anerkennung für das unglaubliche Engagement des gesamten Vishay-Teams, das TTI und unsere Kunden mit erstklassigem Service und hervorragender Qualität unterstützt", so Felix Corbett, Director of Supplier Marketing, TTI Europe. "Es ist eine besonders bedeutende Leistung in einer so dynamischen Zeit in unserer Branche, in der es so viele Materialengpässe und logistische Herausforderungen gibt. Herzlichen Glückwunsch an Vishay und ein großes Dankeschön von TTI für unsere starke Partnerschaft."
"Die Supplier Excellence Awards sind eine begehrte Auszeichnung, denn die Kriterien sind sehr anspruchsvoll und die Konkurrenz ist groß", sagt Dave Valletta, Executive Vice President, Worldwide Sales, bei Vishay. "Wir sind daher sehr stolz darauf, dass unsere Bemühungen in Europa für 2021 anerkannt werden. Und dass wir den Preis in der Region elf Jahre in Folge gewonnen haben, spricht für unser Engagement und die Stärke unserer Beziehung zu TTI."
Vishay bietet eines der weltweit größten Angebote an diskreten Halbleiterbauelementen und passiven elektronischen Bauteilen, die innovative Designs ermöglichen und in den unterschiedlichsten Märkten Verwendung finden – von Automobilindustrie über Computer, Consumer-Produkte und Telekommunikation bis hin zu Luft-/Raumfahrt-/Wehrtechnik und Medizintechnik. Mit seinem weltweiten Kundenstamm ist Vishay The DNA of tech.® Vishay Intertechnology, Inc. zählt zu den Fortune-1000-Unternehmen und ist an der New Yorker Börse (NYSE) unter dem Tickersymbol VSH notiert. Weitere Informationen über Vishay finden Sie unter www.vishay.com.



https://twitter.com/vishayindust


https://www.facebook.com/VishayIntertechnology
###
The DNA of tech™ ist eine Marke der Firma Vishay Intertechnology.