Vishay Intertechnology Brings Power Management Solutions for Next-Generation Applications to APEC 2023
Company to Highlight Industry-Leading Technologies in a Series of Demonstrations Focused on Addressing Latest Trends in Power Electronics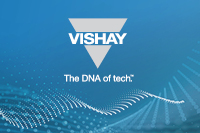 MALVERN, Pa. — March 17, 2023 — Vishay Intertechnology, Inc. (NYSE: VSH) today announced that at the Applied Power Electronics Conference and Exposition (APEC) 2023, the company will be showcasing its broad portfolio of power management solutions that address the latest trends in power electronics — from energy harvesting, electric vehicle (EV) powertrains, and mass commercialization to efficient and effective power electronics for power tools and switching regulators that shorten the iterative design cycle. In booth 332, Vishay experts will be available to discuss the company's extensive offering of passive and semiconductor solutions for these next-generation applications, including the development of 600 V and 1200 V planar SiC MOSFET technology; power inductors that enable high efficiency in gallium-nitride (GaN) DC/DC converters; and integrated power module solutions combining high efficiency fast body diode MOSFETs and SiC, FRED Pt®, and MOAT diode technologies to enable higher power density than discrete solutions.
Vishay will also be offering a variety of product-focused demonstrations highlighting microBUCK® and microBRICK® switching regulators; IHLE® series high current inductors; IHPT haptic actuators; MELF and CRCW-HP / RCS thick film chip resistors; RCP, PHP, and PCAN thick and thin film resistors; AEC-Q200 qualified CDMM thick film dividers; and the THJP ThermaWick™ Thermal Jumper.
Application-focused demonstrations will also include:
A high voltage intelligent battery shunt for 400 V and 800 V batteries
A six-phase DC/DC converter for mild hybrid vehicles with 48 V boardnets that provides power to 12 V loads up to 3 kW with high efficiency to 97 %
A semiconductor-based, resettable eFuse for electric vehicles with 800 V batteries
Additional Vishay passive components on display at APEC 2023 will include integrated transformers; wirewound resistors; PTC and NTC thermistors; LPS, LTO, DTO, and D2TO power thick film resistors; wireless charging coils; ENYCAP™ electrical double-layer storage capacitors; and ceramic and power electronic capacitors (PEC). Highlighted Vishay semiconductor solutions will consist of 2 A to 7 A TMBS®, 2 A to 4 A standard, and 1 A to 5 A FRED Pt® ultrafast rectifiers in Vishay's first compact, low profile Power DFN series package: the industry-first DFN3820A.
Jorge Lugo, Marketing Development Manager at Vishay, will also be presenting an Exhibitor Seminar "Optimizing Your Battery Management System" on Wednesday, March 22, from 12 to 12:30 p.m. in Theater 1.
APEC 2023 will be taking place March 19-23 at the Orange County Convention Center in Orlando, Florida. As the premier event in applied power electronics, APEC focuses on the practical and applied aspects of the power electronics business. More information on the conference and exposition is available at https://www.apec-conf.org/.
Vishay manufactures one of the world's largest portfolios of discrete semiconductors and passive electronic components that are essential to innovative designs in the automotive, industrial, computing, consumer, telecommunications, military, aerospace, and medical markets. Serving customers worldwide, Vishay is The DNA of tech.® Vishay Intertechnology, Inc. is a Fortune 1,000 Company listed on the NYSE (VSH). More on Vishay at www.vishay.com.



https://twitter.com/vishayindust


https://www.facebook.com/VishayIntertechnology
###
The DNA of tech™ is a trademark of Vishay Intertechnology. ENYCAP and ThermaWick are trademarks and TMBS, IHLE and FRED Pt are registered trademarks of Vishay Intertechnology. microBUCK and microBRICK are registered trademarks of Siliconix incorporated.