Vishay Intertechnology Opens New State of the Art Resistors Manufacturing Facility in Ciudad Juárez, Mexico
New Production Plant Enables Shorter Lead Times for WSLx Family of Power Metal Strip® Resistors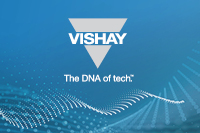 MALVERN, Pa. — Aug. 15, 2023 — Vishay Intertechnology, Inc. (NYSE: VSH) today announced that it has opened a new state of the art production facility in Las Torres, Ciudad Juárez, Chihuahua, Mexico. The strategically located plant allows the company to significantly increase the current output of its WSLx family of Power Metal Strip® resistor products and reduce lead times for devices in core case sizes to just eight weeks.
"Vishay is a clear frontrunner in the market for current sense resistors, delivering superior quality and continuously expanding our portfolio of products to meet the evolving demands of design engineers," said Joel Smejkal, President and Chief Executive Officer at Vishay. "Given the significant rise in automotive, industrial, consumer, and aerospace applications for these products, we're committed to expanding our production capacity to meet the rapidly growing demand and provide unparalleled service to our valued customers and distributors."
WSLx family resistors offer very low TCR for increased stability, low resistance values down to 0.1 mW to reduce power dissipation and improve efficiency, and tight tolerances for more accurate current measurement. Offering high power up to 15 W in a wide range of package sizes and configurations, the devices offer superior pulse performance when compared to thick film, thin film, and commercial foil devices.
Vishay manufactures one of the world's largest portfolios of discrete semiconductors and passive electronic components that are essential to innovative designs in the automotive, industrial, computing, consumer, telecommunications, military, aerospace, and medical markets. Serving customers worldwide, Vishay is The DNA of tech.® Vishay Intertechnology, Inc. is a Fortune 1,000 Company listed on the NYSE (VSH). More on Vishay at www.vishay.com.



https://twitter.com/vishayindust


https://www.facebook.com/VishayIntertechnology
###
The DNA of tech® is a trademark of Vishay Intertechnology. Power Metal Strip is a registered trademark of Vishay Intertechnology.