Vishay Intertechnology eröffnet neue hochmoderne Fertigungsstätte für Widerstände in Ciudad Juárez, Mexiko
Neue Produktionsanlage ermöglicht kürzere Lieferzeiten für die WSLx-Familie von Power Metal Strip®-Widerständen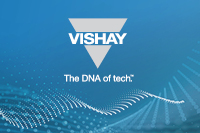 Malvern, Pennsylvania (USA) – 15. Februar 2023 – Vishay Intertechnology, Inc. (NYSE: VSH) hat heute die Eröffnung einer neuen, hochmodernen Produktionsstätte in Las Torres, Ciudad Juárez, Chihuahua, Mexiko bekannt gegeben. Das strategisch günstig gelegene Werk ermöglicht es dem Unternehmen, den derzeitigen Durchsatz seiner WSLx-Familie von Power Metal Strip®-Widerstandsprodukten deutlich zu erhöhen und die Lieferzeiten für Geräte in den wichtigsten Gehäusegrößen auf nur acht Wochen zu reduzieren.
"Vishay ist ein klarer Spitzenreiter auf dem Markt für Strommesswiderstände. Wir liefern überragende Qualität und erweitern kontinuierlich unser Produktportfolio, um die sich entwickelnden Anforderungen von Entwicklungsingenieuren zu erfüllen," so Joel Smejkal, Präsident und Chief Executive Officer bei Vishay. "Angesichts des beträchtlichen Anstiegs der Anwendungen für diese Produkte in den Bereichen Automobil, Industrie, Konsumgüter sowie Luft- und Raumfahrt sind wir entschlossen, unsere Produktionskapazitäten zu erweitern, um die schnell wachsende Nachfrage zu befriedigen und unseren geschätzten Kunden und Händlern einen unvergleichlichen Service zu bieten."
Die Widerstände der WSLx-Familie bieten sehr niedrige Temperaturkoeffizienten für erhöhte Stabilität, kleine Widerstandswerte bis hinunter zu 0,1 mÙ, um die Verlustleistung zu reduzieren und die Effizienz zu verbessern, sowie enge Toleranzen für genauere Strommessungen. Mit hohen Leistungen von bis zu 15 W in einer Vielzahl von Gehäusegrößen und -konfigurationen bieten die Bauelemente im Vergleich zu Dickschicht-, Dünnschicht- und kommerziellen Folienwiderständen eine überlegene Impulsleistung.
Vishay bietet eines der weltweit größten Angebote an diskreten Halbleiterbauelementen und passiven elektronischen Bauteilen, die innovative Designs ermöglichen und in den unterschiedlichsten Märkten Verwendung finden – von Automobilindustrie über Computer, Consumer-Produkte und Telekommunikation bis hin zu Luft-/Raumfahrt-/Wehrtechnik und Medizintechnik. Mit seinem weltweiten Kundenstamm ist Vishay The DNA of tech.® Vishay Intertechnology, Inc. zählt zu den Fortune-1000-Unternehmen und ist an der New Yorker Börse (NYSE) unter dem Tickersymbol VSH notiert. Weitere Informationen über Vishay finden Sie unter www.vishay.com.



https://twitter.com/vishayindust


https://www.facebook.com/VishayIntertechnology
###
The DNA of tech® ist eine Marke von Vishay Intertechnology. Power Metal Strip ist eine eingetragene Marke von Vishay Intertechnology.