Vishay Intertechnology stellt auf der PCIM Europe 2023 die neuesten Power-Management-Lösungen für Anwendungen der nächsten Generation vor
Unternehmen zeigt branchenführende Technologien in einer Reihe von Demonstrationen mit Schwerpunkt auf E-Mobilität und Energiespeicherung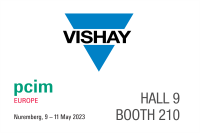 Malvern, Pennsylvania (USA) – 4. May 2023 – Vishay Intertechnology, Inc. (NYSE: VSH) hat heute bekannt gegeben, dass das Unternehmen auf der PCIM Europe 2023 sein breites Portfolio an Power-Management-Lösungen vorstellen wird, die zwei zunehmend wichtige Trends in der Leistungselektronik aufgreifen: E-Mobilität und Energiespeicherung. In Halle 9, Stand 210, informieren Experten von Vishay über das umfangreiche Angebot des Unternehmens an passiven- und Halbleiter-Lösungen für diese Anwendungen der nächsten Generation, darunter die Entwicklung der planaren SiC-MOSFET-Technologie für 600 V und 1200 V, Leistungsinduktivitäten, die hohe Wirkungsgrade in Galliumnitrid (GaN)-DC/DC-Wandlern ermöglichen, sowie integrierte Leistungsmodullösungen, bei denen hocheffiziente Fast-Body-Dioden-MOSFETs und SiC-, FRED Pt®- und MOAT-Diodentechnologien kombiniert werden, um eine höhere Leistungsdichte gegenüber diskreten Lösungen zu erreichen.
Vishay wird auf der PCIM zudem eine Reihe von produktspezifischen Vorführungen anbieten. Die Besucher des Standes werden den Einsatz der elektrischen Doppelschicht-Energiespeicherkondensatoren ENYCAP™ in batterielosen mobilen Anwendungen zu sehen bekommen, während die Optokoppler-Evaluierungsboards die Funktionalität des linearen Optokopplers VOA300 zur Spannungs- und Strommessung, des Photovoltaik-MOSFET-Treibers VOM1271 mit integrierter Schnellabschaltung und des Widebody-Hochgeschwindigkeits-Optokopplers VOW2611 verdeutlichen.
Die anwendungsbezogenen Demonstrationen umfassen zudem:
· Eine rücksetzbare elektronische 40-kW-Sicherung (eFuse) für batteriebetriebene Elektrofahrzeuge (BEV) mit 400 V und 800 V
· Ein unidirektionales 11-kW-Drehstrom-Bordladegerät (OBC) mit einer Stückliste, die zu 90 % aus Vishay-Bauteilen besteht
· Ein intelligenter Hochspannungs-Batterie-Shunt für 400-V- und 800-V-Batterien
· Eine bidirektionale 10-kW-eFuse für 48-V-Anwendungen
· Ein V-Harvester-Board mit einem e-peas-Controller, Vishay-Fotodioden und hybriden Energiespeicherkondensatoren
· Eine kollaborative Roboter-Workstation mit Vishay-Leistungswiderständen, ESTA-Leistungselektronikkondensatoren (PEC) und Automotive Grade-Dioden
Zu den weiteren passiven Bauelementen von Vishay, die auf der PCIM gezeigt werden, gehören Aktuatoren mit haptischem Feedback, Power Metal Strip®- und Power Metal Plate™-Widerstände, Ultrapräzisions-Dünnfilm-Chipwiderstände und -Sicherungen, Leistungs-Dickfilmwiderstände, Drehpotentiometer, metallisierte Polypropylen-Folienkondensatoren, keramische Wechsel- und Gleichstrom-Scheibenkondensatoren sowie radiale, einrastende und oberflächenmontierbare Aluminium-Elektrolytkondensatoren. Zu den vorgestellten Vishay-Halbleiterlösungen gehören 2 A bis 7 A TMBS®-Gleichrichter bis 150 V, 2 A bis 4 A Standard-Gleichrichter bis 600 V sowie 1 A bis 5 A 200 V FRED Pt-Ultrafast-Gleichrichter in Vishays branchenweit erstem kompakten, flachen Power-DFN-Gehäuse: dem DFN3820A. Darüber hinaus werden 600 V und 1200 V-FRED Pt Gen 5 und Gen 7 ultraschnelle und hyperschnelle Gleichrichter in einer Vielzahl von Leistungsgehäusen sowie 400 V, 600 V und 1200 V-Standardgleichrichter in eSMP®-Gehäusen der Serien SlimDPAK 2L und SMPD 2L zu sehen sein.
Die PCIM Europe 2023 – eine Messe für Leistungselektronik, intelligente Antriebstechnik, erneuerbare Energien und Energiemanagement - findet vom 9. bis 11. Mai in der Messe Nürnberg statt. Weitere Informationen über die Veranstaltung finden Sie unter https://pcim.mesago.com/nuernberg/en.html.
Vishay bietet eines der weltweit größten Angebote an diskreten Halbleiterbauelementen und passiven elektronischen Bauteilen, die innovative Designs ermöglichen und in den unterschiedlichsten Märkten Verwendung finden – von Automobilindustrie über Computer, Consumer-Produkte und Telekommunikation bis hin zu Luft-/Raumfahrt-/Wehrtechnik und Medizintechnik. Mit seinem weltweiten Kundenstamm ist Vishay The DNA of tech.® Vishay Intertechnology, Inc. zählt zu den Fortune-1000-Unternehmen und ist an der New Yorker Börse (NYSE) unter dem Tickersymbol VSH notiert. Weitere Informationen über Vishay finden Sie unter www.vishay.com.



https://twitter.com/vishayindust


https://www.facebook.com/VishayIntertechnology
###
The DNA of tech™ ist eine Marke der Firma Vishay Intertechnology.