Vishay mit dem TTI Supplier Excellence Award 2022 für Europa ausgezeichnet
Unternehmen behauptet Status als Platin-Lieferant in der Region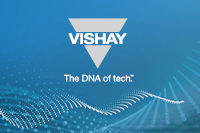 Malvern, Pennsylvania (USA) – 8. Juni 2023 – Vishay Intertechnology, Inc. (NYSE: VSH) hat heute bekannt gegeben, dass das Unternehmen von TTI mit dem Supplier Excellence Award 2022 ausgezeichnet wurde, der den Beitrag des Unternehmens zum Geschäftsbetrieb von TTI würdigt. Dies zeichnet Vishay als einen der fünf größten Hersteller aus, die von TTI in Europa vertreten werden. Mit dieser Auszeichnung – der zwölften in Folge in Europa – behält Vishay weiterhin seinen Status als Platin-Lieferant in der Region. Der Platin-Status, die höchste Auszeichnungsstufe, erfordert fünf aufeinanderfolgende Jahre der Anerkennung.
TTI ist ein autorisierter Spezialdistributor für passive, Steckverbinder, elektromechanische und diskrete Halbleiterkomponenten und der Distributor der Wahl für Hersteller von Industrie-, Militär-, Luft- und Raumfahrt- sowie Unterhaltungselektronik weltweit. Vishay ist einer der weltweit größten Hersteller von diskreten Halbleiterbauelementen und passiven elektronischen Bauteilen.
Das Auszeichnungsprogramm basiert auf Qualitätsmessungen, die unter anderem die termingerechte Lieferung, die Eingangsqualität, die Kundenqualität, die Verwaltungsqualität, die Verkaufsunterstützung und die Geschäftssysteme umfassen. Die Gewinner werden durch die für diese Kriterien vergebenen Leistungspunktzahlen ermittelt.
"Wir gratulieren Vishay zum zwölften Mal zur Verleihung des Supplier Excellence Award hier in Europa", so Glyn Dennehy, Präsident EMEA, TTI. "Dies ist ein Beleg für die harte Arbeit und das Engagement des gesamten Vishay-Teams, dass die Anforderungen dieses Programms erfüllen und sogar übertreffen konnte, und wir sehen deutlich die Vorteile, die es für TTI und alle unsere Vishay-Kunden bringt, die bestmögliche Qualität und den bestmöglichen Service zu bieten."
"Wir sind stolz darauf, dass unsere Bemühungen in Europa zum zwölften Mal in Folge mit einem Supplier Excellence Award gewürdigt werden", erklärt Stefan Fischer, Senior Vice President Sales & Marketing Europe, bei Vishay. "Der Wettbewerb um diese prestigeträchtige Auszeichnung wird von Jahr zu Jahr härter, daher ist es keine geringe Leistung, unseren Status als Platin-Lieferant in den letzten sieben Jahren zu halten. Es unterstreicht unser Engagement für ein herausragendes Kundenerlebnis, das die Grundlage für unser weiteres gemeinsames Wachstum bildet."
Vishay bietet eines der weltweit größten Angebote an diskreten Halbleiterbauelementen und passiven elektronischen Bauteilen, die innovative Designs ermöglichen und in den unterschiedlichsten Märkten Verwendung finden – von Automobilindustrie über Computer, Consumer-Produkte und Telekommunikation bis hin zu Luft-/Raumfahrt-/Wehrtechnik und Medizintechnik. Mit seinem weltweiten Kundenstamm ist Vishay The DNA of tech.® Vishay Intertechnology, Inc. zählt zu den Fortune-1000-Unternehmen und ist an der New Yorker Börse (NYSE) unter dem Tickersymbol VSH notiert. Weitere Informationen über Vishay finden Sie unter www.vishay.com.



https://twitter.com/vishayindust


https://www.facebook.com/VishayIntertechnology
###
The DNA of tech™ ist eine Marke der Firma Vishay Intertechnology.