Vishay Honored With 2022 TTI Supplier Excellence Award for Europe
Company Maintains Platinum Level Supplier Status in the Region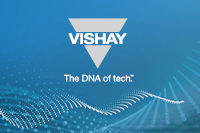 MALVERN, Pa. — June 8, 2023 — Vishay Intertechnology, Inc. (NYSE: VSH) today announced that the company has received a 2022 Supplier Excellence Award from TTI honoring its contributions to TTI's business operations. The award puts Vishay in the top five manufacturers represented by TTI in Europe. With the award win — the company's 12th in a row in Europe — Vishay continues to maintain its Platinum Level supplier status in the region. The highest award level given, Platinum status requires five consecutive years of recognition.
TTI is an authorized specialty distributor of passive, connector, electromechanical, and discrete semiconductor components and the distributor of choice for industrial, military, aerospace, and consumer electronics manufacturers worldwide. Vishay is one of the world's largest manufacturers of discrete semiconductors and passive electronic components.
The awards program centers on quality measurements that include on-time delivery, receiving quality, customer quality, administrative quality, sales support, and business systems. Winners are determined by performance points for these criteria.
"Congratulations to Vishay on achieving the Supplier Excellence Award for the 12th time here in Europe," said Glyn Dennehy, president EMEA, TTI. "It's a testament to the hard work and dedication of the entire Vishay organization that they have been able to meet and exceed the requirements of this program, and we can clearly see the benefits it brings to TTI and all our Vishay customers in providing the best possible quality and service levels."
"We're proud to have our efforts in Europe acknowledged with a Supplier Excellence Award for the 12th year in a row," said Stefan Fischer, Senior Vice President Sales & Marketing Europe, at Vishay. "Year after year, the competition for this prestigious honor becomes more challenging, so upholding our status as a Platinum Level supplier for the last seven years is no small feat. It underscores our commitment to delivering a superior customer experience, which serves as the foundation for our continued mutual growth."
Vishay manufactures one of the world's largest portfolios of discrete semiconductors and passive electronic components that are essential to innovative designs in the automotive, industrial, computing, consumer, telecommunications, military, aerospace, and medical markets. Serving customers worldwide, Vishay is The DNA of tech.® Vishay Intertechnology, Inc. is a Fortune 1,000 Company listed on the NYSE (VSH). More on Vishay at www.vishay.com.



https://twitter.com/vishayindust


https://www.facebook.com/VishayIntertechnology
###
The DNA of tech™ is a trademark of Vishay Intertechnology.