P11 PANEL POTENTIOMETER PART NUMBER GENERATOR
The fully modular P11 panel potentiometer family allows our customer to build the exact product required for their specific application. A large range of ohmic values, specials laws, bushing and shaft configurations are available, as well as detent, switch modules. Just tell us what you need, and we'll build it for you.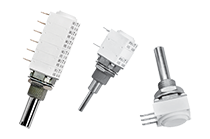 OPTIONS
Detents
Switch (rotatory, push-push, momentary push)
Special resistance taper (resistance variation)
Wire, connector, PCB
High torque
Special marking
Reinforced traceability (for AMS application)
Other customization
Please complete our Design Guide and email to sferpottrimmers@vishay.com and we will provide you with the right product.
Part Number
P11_______________
USEFUL LINKS
x