How to Get Lead-Free/RoHS II/Reach Status
These downloadable Excel files contain detailed information regarding Vishay's lead-free conversion program and Recast RoHS II compliance: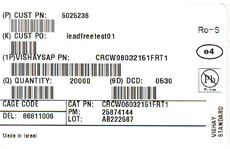 Vishay Standard Label - Minimum Pack Unit (e.g. Reel)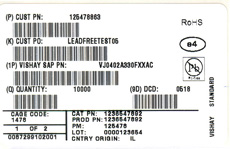 Vishay Standard Label - Shipping Box
In order to verify that both the structure and plating process are robust Vishay has adopted the following tests as of September 1st 2004 that have been recommended by NEMI/JEDEC. It must be noted that since there is not a complete industry consensus these requirements might change in the future.
In addition to these tests, Vishay will perform ongoing monitoring of its plating process. Qualification and reliability data is available and may be obtained by contacting your local Sales Office or Vishay Representative.
Vishay defines homogeneous materials as materials that cannot be mechanically disjointed into different materials. Examples of homogeneous materials are electroplated coating, moulding compound, insulation sleeve, lead frame alloy and bonding wires.